Adele dedicates NYC show to Brad Pitt and Angelina Jolie: "It's the end of an era"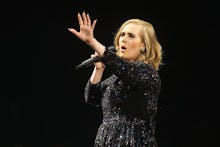 Adele, creator of the best modern breakup music, knows a thing or two about heartache. So the singer had no choice but to dedicate her Tuesday night performance in New York City to Brad Pitt and Angelina Jolie, Hollywood's beloved power couple, whose divorce was reported Tuesday. 
While the British powerhouse vocalist normally invites an energetic fan, an adorable couple or sometimes even a drag queen onstage to meet her and take a selfie, Tuesday night's somber festivities were focused on the Hollywood couple. 
"Brangelina are broken up," the entertainer said in the middle of a chat with fans. "Private lives should be private, but I feel like it's the end of an era, so I'm dedicating my show tonight to them."
Like every other person who found out about the split on Tuesday, Adele admitted she was shocked when she heard the news that morning — though she had never met the couple before.
Reports of Brangelina's split shook the world Tuesday. So what better way is there to cap off the day love died then hours of Adele performing her tear-jerking melodies and soft, painful odes to broken hearts?