Michelle Obama says Melania Trump's RNC speech plagiarism was "tough" on 'Stephen Colbert'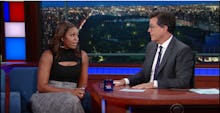 Michelle Obama made her latest late-night appearance Tuesday, stopping by The Late Show with Stephen Colbert for a wide-ranging discussion on her last year in the White House and her global initiatives. But most importantly, Colbert asked Obama what it is like to be friends with Beyoncé. 
"She's a sweetheart," she says. "She's smart, she's creative, she loves her family ... she's a low-key lady, we have a lot in common. Except I can't sing, I can't dance." 
Despite her belief that she can't sing or dance (Colbert disagreed), Obama did, however, undeniably nail an impression of her husband, President Barack Obama. She noted that their eldest daughter, Malia, will ask Barack about his job and his day — which FLOTUS and Sasha heavily discourage. 
"Well, I'm glad you asked that," she says, imitating the commander-in-chief. "Let me just answer that in three points." 
Meanwhile, she added, "Sasha and I want to talk about our favorite song on the Lemonade album. That's what we want to talk about." 
Colbert later dug into the role of presidential spouses, asking her if she had any sympathy for people who stand by their partners, despite the possibility of not agreeing with their policies. 
"No, not really," Obama says. "You have to be in it. And if you don't agree, you should have [said so] before they ran. The bottom line is, if I didn't agree with what Barack was saying, I would not support his run. So I stand there proudly and I hope they are too. So no sympathy." 
Colbert used this moment to segue into talking about Melania Trump, who drew a lot of controversy for her plagiarized speech at the Republican National Convention, which was strikingly similar to the first lady's remarks from the 2008 Democratic National Convention. While Colbert admitted that he had "some sympathy" for Melania for the speech, Obama seemed less concerned. 
Watch the second half of FLOTUS' interview with Colbert — in which she also discusses her new CNN documentary, We Will Rise — below.