Tidal announces Beyoncé charity concert with Nicki Minaj, Alicia Keys and DNCE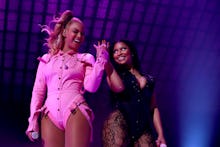 Sept. 21, 2016, 3:44 p.m.: In the initial press release provided to Mic, Tidal listed multiple artists who are not performing at the charity festival. After this story's publication, Tidal emailed Mic with an updated lineup. We've updated our story accordingly.
Original story below:
Tidal is hosting its second annual festival for charity in Brooklyn, New York, featuring Beyoncé, Nicki Minaj, Alicia Keys, Common, Lauryn Hill, DNCE and more, reps from the streaming service confirmed to Mic. Rumors about the event made waves online last week; Tidal confirmed 100% of the proceeds from the Tidal X: 1015 event will benefit education nonprofits including Robin Hood, New York City's largest poverty-fighting organization which also supports education initiatives across the city. 
The concert will be held on Oct. 15 at Brooklyn's Barclays Center, a stadium Jay Z helped build with initial investments. Last year's Tidal X: 1020 concert raised $1.5 million in support of Black Lives Matter and several other national social justice organizations. 
Tickets will be available through Tidal, TicketMaster and the Barclays Center on Monday, Sept. 26 at 10 a.m. Eastern. Tidal members and American Express Card members will be able to purchase tickets on Thursday at 10 a.m. 
The night serves as an interactive fundraising opportunity for fans, but doubles as an opportunity for Tidal to give a platform to rising artists and groups. Tidal X: 1015 will feature Lil Yachty, Mark E. Bassy, Kevin Garrett and DNCE, among others. The electropop group's frontman Joe Jonas, a former member of the brother boy band Jonas Brothers, said in an interview that he's thrilled to be performing. 
"We're so excited to be included with such an incredible lineup, and for such a good cause," Jonas said. "We got involved through Roc Nation, we do quite a bit of stuff through them. [DNCE] really wanted to help raise awareness on this."
Dania Diaz, Roc Nation's vice president of philanthropy, said in a statement:
We are honored to partner with Robin Hood Foundation for TIDAL X: 1015 around this year's current theme, education. We know that education can advance communities and can be the most powerful tool for change. Robin Hood has helped to transform communities in positive ways by supporting education programs that generate meaningful results.
In a global economy where graduating high school is fundamental to supporting oneself, these artists are coming together to make a case for giving kids the resources they need to succeed. 
In 2015, the graduation rate for New York City's high school students went over 70% for the first time. While only about 65% of black and hispanics students graduated on time compared to 82% of white students. Across New York State, about 50% of students with disabilities graduated on time, the New York Times reported. 
"The concert itself will benefit Robin Hood's education portfolio, which has fueled the most effective education programs in the world," Robin Hood executive director David Saltzman said. "Since its founding, Robin Hood has raised more than $2.5 billion in dollars, goods and services to provide hundreds of the most effective schools, job training programs and other vital services that give New York's neediest citizens the tools they need to build better lives."
Jay Z promised Brooklyn crowds and audiences livestreaming last year's event that the Tidal X: 1020 concert would become an annual affair. The rap mogul and entrepreneur has lived up to his promise, five days earlier than last year's Oct. 20 concert.