Obama announces 50-nation pledge to double refugee intake globally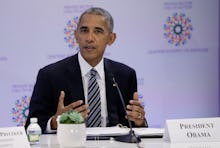 President Barack Obama stood before the heads of state in attendance Tuesday at the UN General Assembly and announced a 50-country promise to double the number of refugees who are resettled globally next year.
The United States, Obama said, will join dozens of other nations in efforts to take in at least 360,000 displaced people fleeing terror and war in their home countries.
"We are facing a crisis of epic proportion," Obama said, according to the BBC. "We cannot avert our eyes or turn our backs. To slam the door in the face of these families would betray our deepest values."
The countries taking part in the U.S.-led coalition include that who are among the most burdened by the migrant crisis like Germany, Sweden and Canada.
According to the U.N. High Commissioner for Refugees, an estimated 11 million refugees have fled war-torn Syria alone. But the total number or refugees worldwide is much higher, at an estimated 65.3 million people — the highest number of displaced people ever recorded in history, according to UNHCR.
Obama addressed also the fact that a pledge to resettle 360,000 refugees would do little to mitigate that unprecedented number, but said it was a start.
"We're going to have to be honest: It's still not enough — not sufficient for a crisis of this magnitude," he said, according to White House remarks. "I hope this is a beginning."
The pledge comes as the cease-fire agreement reached between Syrian opposition fighters and Russian-backed Syrian government forces continues to fray.
On Monday, a U.N. aid convoy was hit by what U.S. officials have reported was a Russian airstrike, according to Reuters.
In a statement, U.N. emergency relief coordinator Stephen O'Brien said that the vehicle, which had been carrying food and medicine to an estimated 78,000 people, and which all factions of the conflict had been made aware of, had been clearly marked as humanitarian.
"If this callous attack is found to be a deliberate targeting of humanitarians, it would amount to a war crime," O'Brien said.