Spend less, party more: How to save on your social life and still have fun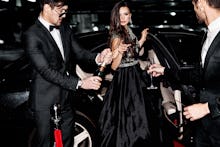 The catch-22: You need to save, badly, so you can eventually be a real adult — but you also need a social life, for your mental and physical health. And socializing is expensive.
Americans spend more than $1,000 monthly on discretionary purchases like dining, retail and entertainment, according to a recent TD Bank study.
Reconciling your competing goals (fun, financial stability) is no easy feat, but it's not impossible. Little habits, like carrying cash, can help you subconsciously limit how much dough you drop in a given night.
Want to make an even bigger dent? Read on.
These seven tips are like a $100-off-your-social-life coupon, so you can party — without throwing responsibility out the window.
Remix your happy hour.
In case you haven't heard, the new hotness is late night happy hours, especially in big cities like Los Angeles, Austin, Texas, and New York.
So even if work keeps you at the office well into the night, you can still snag half-priced drinks or bar snacks with just a drop of planning (think: typing "late night happy hour" into Yelp).
More of an early bird?
Scope out the traditional happy hours in your neighborhood or wherever you like to meet friends: Remember that a small effort can go a long way, in that meeting literally five minutes before a 7 p.m. cutoff can save you mad money. 
Wine bar Amélie in New York, for example, has happy hour wine for $6, while their normal prices can be as much as $18 a glass — three times higher. 
Beaker & Gray in Miami offers premium liquor for $5 during happy hour; cocktails on the normal menu go for as much as $13. Their regular happy hour runs from 4 to 7 p.m. — but it also repeats for late night, from 11 p.m. to 2 a.m. Monday through Thursday.
Estimated savings: You get to the bar right at 6:55 p.m. and immediately order two (or three?!) rounds to cover you for the evening. To use the Amélie example above, two glasses for $12 certainly beats one for $18. Assuming you have two drinks, you're saving $24.
Score big restaurant discounts. 
We live in the age of the interwebs. That means you'd be remiss not to Google around for a deal on a restaurant where you just booked a table. And that includes nice places. 
Seriously, you might be surprised: Try websites like Restaurant.com, which allow you to buy certificates for restaurants in your area at 40% their value. You can buy a certificate worth $75 for $30. Then simply choose to meet at that restaurant when making plans with friends.
Even better, take charge of your gang's plans during Restaurant Week. Many major cities have one: In San Francisco, for example, you can get three- or more course prix-fixe dinners for as little as $40 during the forthcoming 10-day bonanza. Two-course prix-fixe lunches start at $15!
And during New York's most recent week, for example, you could get dry-aged strip steak from the famed Strip House as part of the $42 three-course prix-fixe dinner — the steak alone usually goes for $48.
Estimated savings: Assuming you use Restaurant.com, you could get a $50 certificate for yourself (you gotta include that wine) for $20 in Houston, Texas, for instance, which is a $30 savings. Alternatively, if you decide to dish into something like Restaurant Week in Frisco you could be saving at least $20 with that three-course prix fixe; normally restaurants like 25 Lusk easily charge $60 for a 3-course meal — sans alcohol.
Sign up for credit card rewards programs.
First, a big caveat: Reward credit cards are not all created equal, and some of the cards that have captured hearts and minds (cough—Chase-Sapphire-Reserve—cough) have such high annual fees that you need to go on a spending bonanza to make it worth it — probably not what you need right now, if you're reading this.
But for frequent travelers, the Chase Sapphire Preferred card could work in your favor. Chase waives the first annual fee of $95 and, according to NerdWallet's calculations, has a $500 bonus value.
If you want to go for a card that doesn't have an annual fee at all, try the top-rated Discover It card or Citi Double Cash Card, both of which give you generous cash-back rewards. Alternatively, the Chase Freedom, for which NerdWallet estimates a bonus value of $150. 
And American Express grants some of its members access to elite events not accessible to the public — New York Fashion Week being one such event. 
Estimated savings: While you can get a bonus value of $500 with some cards, let's be conservative and say, at the very least, you can pick a card that will save you $150.
Pregame like a youth, and nurse Prosecco at the bar.
Harken back to your college years and start the night with some pregaming at home. 
That pays off because alcohol sold in bars and restaurants has a ridiculous average markup. Draft beers have around a 400% markup, while well liquor has a — wait for it — 1,206% markup.  Alcohol is a $90 billion-dollar industry. So, don't fall for the trap.
Drink a grocery store beer or wholesale liquor at home, and show up buzzed to wherever you're meeting your friends — and then nurse a glass of Prosecco (or soda water and lime, if you're really on a budget) for a super long time, while watching your friends down those four extortionate drinks. 
Estimated savings: You can get a bottle of Smirnoff for around $14 — that bottle will make approximately 17 drinks, which would make each drink come out at $0.82. A 1,206% markup in a bar, would make that same drink cost around $10. That is a savings of about $9 per drink.
Seek out trendy BYOB restaurants with friends.
Feel too old for pregaming? BYOB: You avoid the same markup above, and look classy to boot.
Estimated savings: You can get a pretty decent bottle of wine for $15. If each bottle contains an average of six glasses, that works out to $2.50 per glass. With that 300% restaurant markup, you could be spending $10 for that same glass. That's a savings of $7.50 per glass. If you're buying a bottle, a 200% markup is pretty standard, so that same bottle you brought with you would likely go for $45 — that's a $30 savings.
Look into your city's glamorous freebies.
Merely being an urban resident can sometimes have huge payoffs. 
The Michigan Activity Pass program, for example, ran from spring 2015 to 2016 and offered its residents free or discounted access to art galleries, museums, gardens, historical societies and camping sites, among other spots. It required no more than a library card. 
The IDNYC card for New York City residents is another example — one of the city's best-kept secrets. 
It grants you "free membership benefits" to some of the city's most elite institutions, like the Metropolitan Opera, and free access to the posh rooftop bar at the Metropolitan Museum — plus one guest. So you can hobnob like a 1%er and impress your date. 
Yearly membership, which is what you'd otherwise need to access the fancy bar, ranges from $80 to $600.
To get similar benefits in your home city, you probably don't need a secret pass: Google free activities near you, or turn to national lists of free arts and cultural events.
Estimated savings: In Boulder, Colorado, you can get a free tour of a tea factory (replete with tea tastings and a mint room — I mean, c'mon), plus free museum entry. Given average museum ticket prices; you can save $8.
Party on someone else's dime. 
Sites like ClubFreeTime.com aggregate fun, and often high-brow, free events, like talks and gallery openings — read: free nibbles and wine to wash it down. 
Sure, you can pay small fees for get-togethers like magazine n+1's reading parties — which require a $10 entrance fee. But you have to buy drinks once you're in, too, and could easily walk away spending $20 or more.
There's no need: Check out different cities' events calendars in Time Out. They literally have a separate tab marked "Free." In Los Angeles, from September to December, there is a "series of free Monday night concerts in Bardot's sumptuous courtyard lounge," Time Out explains.
With the average concert ticket price falling around $50, that means you are saving half a Benjamin by finding cool, free concerts for you and your crew. 
Estimated savings: Let's be conservative and go with the price of a reading or magazine launch party, rather than a concert ticket price. If you do a little digging and go to one of these free cultural events instead of a magazine launch party, you just saved yourself $10.
Total savings: So, we left out the credit card bonus value — as that's something that accumulates over a year. But assuming you're able to apply all these other socializing life hacks, you'd be saving more than $100 this month. And still doing it in style.