'Big Brother 18' spoilers: Here's who won the first parts of the final Head of Household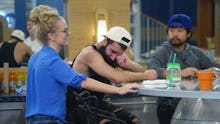 Wednesday night will bring Big Brother's 18th season to an end — to be quickly replaced by a streaming-only season, Big Brother: Over the Top, airing on CBS All Access starting Sept. 28. But before we get invested in another round of Big Brother, we have to close out this one and determine the winner.
The Wednesday finale will feature the final three contestants of the season, James, Nicole and Paul, battling it out in the final Head of Household competition. However, two parts of that competition have already taken place in real time — CBS will air edited versions of each during the episode. Only the third will happen live Wednesday night. So who emerged triumphant in each?
Paul took the win over James in the first part of the competition, while Nicole similarly defeated her fellow veteran James in the second. That means that James is out of the running for the final Head of Household. Said HoH will be determined by the competition tonight between Paul and Nicole. Whoever wins takes power for the last time in Big Brother 18.
Because there's no other houseguest to vote in the last eviction ceremony, the HoH chooses which of the other members of the remaining three to take to the final two with them. Paul and Nicole seemingly have a deal to take each other to the last round, but if reports from the live feeds are any indication, Nicole seems to be doubting that plan.
Whichever two move forward, they'll face a vote of the jury — former competitors Paulie, Da'Vonne, Zakiyah, Bridgette, Natalie, Victor, Michelle and Corey — to determine the victor.
It's worth noting that if Nicole makes it to the final two and defeats her rival, she'll be the first female winner in five seasons, and the first ever woman to win the jury vote over a man.
The season comes to a head Wednesday night at 9:30 p.m. Eastern on CBS.