A comprehensive guide to debating as a woman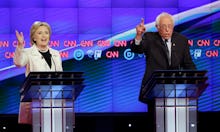 In the 56 years that presidential debates have appeared on national television, a woman candidate has never stood on stage behind a podium as the nominee of a major political party.
And that adds yet another challenge for Hillary Clinton, who will face off with Donald Trump in the first 2016 general election debate at Hofstra University Monday night on Long Island, New York.
Not only will Clinton have to debate one of the most unpredictable candidates to grace a debate stage, she'll have to do it as a woman — which experts and political operatives alike say means she'll face more scrutiny on her tone of voice and style than a man would.
"Look at all the criticism she has received throughout this campaign for everything: for her appearance, her voice, all of it," said Mary Anne Marsh, a Democratic strategist from Massachusetts.
Men commenting on Clinton's tone of voice and facial expressions has been a running theme in the 2016 campaign.
On Super Tuesday, in which Clinton routed Sen. Bernie Sanders in a handful of delegate-rich states — giving Clinton a lead that Sanders was never able to surpass — multiple male politicians and pundits commented on Clinton's tone of voice and facial expressions.
There was Morning Joe co-host Joe Scarborough, who told Clinton to "smile."
That same night, Fox News media critic Howard Kurtz wished Clinton would stop shouting, even though that male candidates — including Trump and Sanders — are no strangers to high-decibel speeches.
Fox News' Brit Hume said Clinton was "shouting angrily in her victory speech."
Sanders and Trump didn't receive the same criticism.
Both candidates shouted during the majority of their speeches.
Sanders would often shout his anger at "millionaires and billionaires."
Trump, on the other hand, shouts to rile up his raucous audiences, including in a pre-Nevada caucus rally, in which he lamented that a protester wasn't "carried out on a stretcher."
"[Trump] screams through all of his rallies, spewing the most vitriolic garbage you've ever heard on the campaign trail, and somehow you get the David Axelrods of the world criticizing Hillary Clinton for being too loud on the microphone," Bill Burton, who worked on President Barack Obama's 2008 campaign as well as in the Obama White House, said of Trump.
Aside from her facial expressions and tone of voice, Clinton could also be judged on what she wears.
Throughout the campaign, articles have pointed out Clinton's "extravagant wardrobe" and the price of her jackets, while the cost of Trump's suits was never raised.
Her wardrobe was something even she poked fun at during an appearance on Funny or Die's Between Two Ferns.
"Have you thought about what you're going to be wearing at the debates?" host Zach Galifianakis asked Clinton.
"There's this thing called the double standard, so I think about what should the first woman nominee of one of our two major parties wear to the debate, and I have no idea so if you've got suggestions I'm open to them," Clinton said.
To be sure, there are pitfalls Trump could face in debating Clinton.
Sanders was criticized for wagging his finger and interrupting Clinton during the primary debates.
And when she was running for Senate in 2000 against Republican Rick Lazio, Lazio was criticized for looking like a bully when he walked up alongside Clinton and pointed in her face.
However Sanders' finger wagging and Lazio's "bullying" pales in comparison to Trump's own behavior in 2016. Trump has proved he's willing to shout over others and even bring up the size of his manhood in primary debates.
That could neutralize Trump against those same sentiments.
"I think it's baked into the American psyche that Donald Trump is kind of an asshole," Burton said. "So I think people anticipate that he's going to be kind of an asshole in the debate."
Above all, Clinton's challenge will be to appear presidential while also looking tough against Trump's potential attacks.
"No matter what he says or does, she had to, in some way, stand up to him and do it in a way that is effective or strong," Marsh said. "Because every voter, no matter who you are, they expect you to defend yourself because if you don't, they think, 'I can't trust you to stand up for me."