Aidy Bryant is done with having to beg designers to dress her curvy figure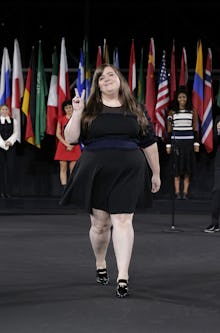 To the 2016 Emmys on Sunday, Laverne Cox wore a golden gown by Naeem Khan. Priyanka Chopra glided down the red carpet in a flowy red gown by Jason Wu. Viola Davis strutted in a Marchesa magenta number. 
But Saturday Night Live cast member Aidy Bryant didn't go for a designer known the world over. Instead she went with a short, flowery, sheer black dress designed by plus-size brand Eloquii.
According to the brand, Eloquii was the one that approached Bryant a month ago, knowing just how hard it is for plus-size women to find stunning red-carpet-appropriate gowns.
"The whole Eloquii office is such a big fan of Aidy's," Jodi Arnold, Eloquii's creative director, said in an interview. "When we heard she wanted to work together on her Emmy's look we were beyond excited because she is a smart, ambitious and confident woman who loves fashion and style, which is emblematic of what we stand for as a brand." 
Bryant looked darling in the short, flowery dress, and the look was a testament to just how hard it still is to dress for a red carpet event when you are plus size. Bryant herself revealed just that in a recent interview with PeopleStyle. 
"I think it's a different experience for plus-size women in film and television to get clothes for events," Bryant told PeopleStyle. "It's just not as welcoming for us to get cool clothes that are like equal in glamour, in style to what, I am going to say, 'small-size' co-stars get to wear. So I've had experiences on photoshoots or wherever, where there just aren't options for us."
"I just was really frustrated. I am young and I am cool and I want to wear cool clothes!" Bryant continued. "So I think for a long time that has been what I have been trying to find. And it is a little bit of a battle, but that's why places like Eloquii are so good because they're designing modern clothes for women with real bodies."
This is not only felt by Bryant, but by women such as Rebel Wilson, Melissa McCarthy and Octavia Spencer, who have all been vocal about just how difficult it is for them to find designers to create gowns for them, regardless of how high-profile the event. 
"Two Oscars ago, I couldn't find anybody to do a dress for me," Melissa McCarthy told Redbook in 2014. "I asked five or six designers — very high-level ones who make lots of dresses for people — and they all said no."
Then, of course, there's Bryant's own SNL cast mate Leslie Jones. Jones had to speak out on Twitter about just how hard it was to find a designer for her Ghostbusters premiere before Christian Siriano stepped up.
Luckily for Bryant, since Eloquii stepped forward, the process wasn't nearly as grueling. According to Bryant, actually, it was a "dream."
"To have this experience where they approached me and it's not us begging them ... and they've been like, 'Let's make this special,'" Bryant told PeopleStyle. "It's been very glamorous to me in ways I maybe haven't experienced before. So it's been really, really positive. ... It's been such a delight."
For Eloquii, the feeling was mutual. 
"Aidy's taste is modern and feminine with a bit of an edge, and this dress fits perfectly with her personality — a bit quirky but not too flashy or sexy. At our first meeting we showed Aidy several dresses that we had in mind for her and she immediately gravitated towards this dress," Arnold said. "From there we worked with her and her stylist, Remy Pearce, to get a shape and fit that worked best for her." 
Although Bryant's experience this time around was a positive one, she told PeopleStyle she still feels stumped as to why brands and designers outside of Eloquii are so resistant to the idea of designing a gown for a plus-size woman.
"To me it just feels like a no-brainer that you would want to dress as many people as you could so you could represent your brand," Bryant told PeopleStyle. "The more that television and film is willing to represent these people; it's part of the circular nature of fashion and magazines and celebrities that we also have to work together. Either you're a part of it or you're not." 
Luckily Eloquii wasn't the only brand to embrace designing gowns for women who aren't sample-size at the Emmys. A designer who showed he was part of this inclusive movement was Christian Siriano, who designed ensembles for Leslie Jones (yet again), as well as curvy stars such as Niecy Nash, Kathy Bates and Anna Chlumsky, who just had a baby. 
But still, for women like Bryant who still have to deal with the hellscape that is the plus-size department, there are constant issues. She told PeopleStyle she doesn't want the outlandish animal prints and tent dresses. She wants to look and feel like herself. 
"I don't want to put on a costume," she told PeopleStyle. "I want to feel like anyone else. I want to feel modern and cool and young too 'cause that's what I am, yo!"
Is that too much to ask?