PlayStation 4 Pro vs PlayStation 4 — here's how they stack up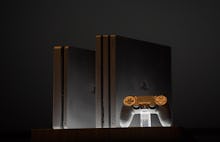 Sony's console family is poised to expand with the imminent arrival of PlayStation 4 Pro. The high-end system boasts several technological improvements, notably 4K video streaming. The console is expected to make a splash on the holiday market following its Nov. 10 release date. So what makes this edition "pro," and how does it compare to the original PlayStation 4?
Here's how the pair stacks up against each other:
Size
Unlike the newly released PlayStation 4 Slim, which is exactly what its name implies, the PS4 Pro is a tad on the hefty side. It's the biggest PlayStation 4 console to date, with increased dimensions and weight (more than 7 pounds), but its proportions are nothing compared to the original PS4. Those who own the 2013 variety shouldn't feel too much of a difference with the PS4 Pro, size-wise.
Performance
They don't call it "Pro" for nothing. Sony's upcoming release has significantly improved specs thanks to a new advanced graphics processor and additional GPU. The powerful system packs a whopping 4.20 teraflops compared to the standard PS4's 1.84. If that number doesn't seem substantial, don't worry, it is. The PS4 Pro's new hardware will allow for a faster, smoother and visually striking experience.
Features
The boost to the PS4 Pro's performance enables new features like HDR gaming with some of the crispest graphics on the market. The Pro also comes with 1TB of storage (the original PS4 only had 500GB) and an extra USB port handy for charging the console's new DualShock 4 controllers. 
Price
With the arrival of the PlayStation 4 Slim, Sony has officially stopped selling standard PS4 models — though they can still be purchased from retailers like Amazon for around $300. But technically, the Slim is now the default PS4 option, which can be purchased for $299. The souped up PS4 will go on sale starting at $399.99.