Texas and 20 other states are fighting federal rules extending overtime pay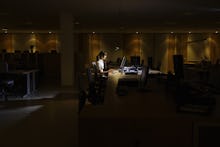 Bad news for workers making less than $50,000 a year — particularly if you clock long hours in an industry like retail. 
An alliance of 21 states and 50-plus business groups led by the U.S. Chamber of Commerce are suing to block federal regulations that would extend overtime pay to millions of low-wage earners. 
In May, President Barack Obama announced a new federal rule that would more than double the income threshold that qualified workers for overtime pay, from $23,660 to $47,476.
Before the extension, employers could avoid paying workers overtime — meaning 1.5 times wages when you work more than 40 hours a week — as long as they set an employee's annual salary above $23,660, a figure that is actually below the poverty threshold for a family of four.
The White House's update is meant to reflect rising costs of living.
"This may be the administration's most significant action on behalf of middle-class paychecks," wrote Jared Bernstein, a former chief economist for Vice President Joe Biden in the Washington Post.
Overtime rules were first passed back in 1938, when the Fair Labor Standards Act created overtime provisions to prevent employers from taking advantage of low-wage workers.
But the actual thresholds determining who is "low wage" have not kept up with inflation, and have been updated only once since 1975, according to the Economic Policy Institute.
That's a problem because many low-wage workers earn too much to be protected today: Back in 1975, over 60% of workers were protected by the overtime rule. Now that number has fallen to about 7%.  
More than 4 million Americans would get a raise under the new rule.
Texas and Nevada filed the joint suit to prevent the change on behalf of 19 other states — all of which except Louisiana have Republican governors.
For businesses, a major objection to the rule is a provision that would automatically raise the threshold every three years.
"Our research shows that retailers and restaurants will spend an estimated $745 million to comply with the threshold increase just this first year. Automatic increases every three years means employers will have to keep doing this costly dance over and over for as long as they are able to stay in business," a spokesperson for the National Retail Federation wrote in an email to Mic.
Secretary of Labor Thomas Perez defended the rules on Tuesday, saying they are lawful and necessary to make sure Americans are paid what they've earned when they take on extra hours.