Lady Gaga releases "Perfect Illusion" video during Tuesday's 'Scream Queens' premiere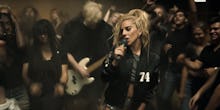 Scream Queens fans were blessed during the show's second season premiere Tuesday, when Lady Gaga debuted the new music video for "Perfect Illusion." The song and rebellious video mark the singer's unofficial comeback to the music limelight ahead of her new album Joanne. 
The "Perfect Illusion" video captures the mixed emotions, pent-up frustrations and '80s punk vibes Gaga employs in her first single off her fifth studio album. It also features cameos from some of the album's producers, including executive producer Mark Ronson, BloodPop and Kevin Parker of Tame Impala. 
In the video, Gaga speeds through the desert in her open jeep, arriving at a raging festival and performing in the dirt and sand. She then dangerously whips a microphone above her head. With "Perfect Illusion," it's clear the entertainer has quite literally arrived back on the scene.
Watch the "Perfect Illusion" video below.