The Talk's Sheryl Underwood gives powerful speech about racial profiling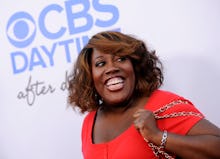 During Tuesday's episode of The Talk, host Sheryl Underwood burst into tears while calling out police brutality and the lack of legal consequences police officers face when they unjustly kill black women and men like Terence Crutcher. 
Crutcher, a 40-year-old father of four, was stunned and shot by police officers in Tulsa, Oklahoma, on Friday. Crutcher — stranded in the middle of the road in the northeast area of the city — was unarmed, had his hands raised and was walking toward his vehicle when police attacked him.
Underwood says a police officer should face hate crime charges when they shoot a black person.
"First thing you gotta do, you gotta make it a hate crime," Underwood said. "You gotta put people in jail. When you shoot somebody under the cover of authority, you need to lose your job and you need to lose your livelihood and you need to lose your freedom."
In an emotional conversation, Underwood then eloquently explains that people who aren't black don't understand their fears because their lives aren't threatened when they're behind the steering wheel. 
"Y'all white, y'all drive all the time and don't nothing happen to y'all," she said. "And we black and I'm afraid to drive my damn car!"
Here is Underwood's full speech about racial profiling below: