Donald Trump sits by smiling as supporter Don King uses the N-Word at Ohio church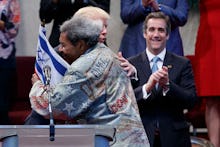 Yet another Donald Trump surrogate made a racially tinged gaffe Wednesday, providing more fodder for Trump detractors who think the Republican nominee has a race problem.
Don King, legendary boxing promoter and Trump supporter, used the word "nigger" Wednesday at a Trump campaign event at a church in Ohio, in which he attempted to urge black voters to back Trump.
"I told Michael Jackson, I said if you're poor, you're a poor negro," King said. "I would use the N-word, but if you're rich, you're a rich negro. If you are intelligent, intellectual, you're an intellectual negro. If you're dancing and sliding and gliding nigger, I mean negro, you're a dancing and sliding and gliding negro."
Making the situation worse for the nominee, Trump sat right behind King and smiled as King used the racial epithet.
The scene is unlikely to help Trump in his bid to win over black voters.
Polls have also found that nearly half of the electorate thinks Trump is racist – including 83% of black voters and 61% of Hispanic voters.
King's blunder is the latest insensitive mark Trump surrogates have made in the past two weeks.
On Monday, Donald Trump Jr. came under attack for comparing Syrian refugees to poisoned skittles.
Last week, Trump Jr. made a Holocaust joke about gas chambers — though he later sought to clarify that he was referring to corporal punishment, not the mass killing chambers used to exterminate Jews and other minorities and political dissidents in the Holocaust.
Similarly, just appearing alongside King came with major pitfalls for Trump.
King is a controversial figure who was convicted of manslaughter in 1966 after he killed an employee who stole money from King — serving four years for the man's death.
The boxing promoter has been a vocal supporter of Trump, defending the candidate against charges of racism.