5 million Somalis — the populations of SF, Chicago and Philly combined — are starving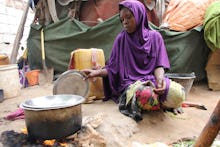 There is more than one major food crisis happening in the world: Not only is Venezuela battling sky high food prices, Somalia is also fighting a major food shortage issue. Over 5 million people — or 40% of the country's population — in the East African nation do not have enough to eat, according to a staggering new report from the United Nations released on Tuesday. 
Of the five million, 1.1 million cannot meet their daily food needs, the report noted, while the other 3.9 million "require livelihood support," otherwise they too would slip into a food crisis. 
The dire food situation in Somalia affects many of the nation's young children. The report revealed more than 300,000 children under 5 are considered to be acutely malnourished, and 50,000 children are severely malnourished. Malnourishment during childhood can lead to lasting physical and psychological problems like stunted growth and anxiety in adulthood, Time noted.
To put those numbers into context, here is how they compare to the 2015 population numbers of cities in the U.S, according to the Census.
The U.N. noted in its report, this food insecurity is largely due to to poor rainfall in southern and central Somalia. But Somalia also has a major refugee crisis that's resulted from years of violence and famine, the Associated Press noted. In 2013, thousands of Somalis fled their homes due to a famine that killed over half of a million people. 
Those who remained in Somalia following the 2013 crisis have been displaced over the years, resulting from violent attacks by al-Shabab, an extremist group linked to al-Qaida. The group continues to terrorize the country, carrying out a number of attacks in places like the capital city of Mogadishu. 
"Life here is a nightmare," Ahmed Mohamed, a Mogadishu resident, told the AP. "It's only between hunger and bombing." Those who are displaced not only face starvation, but oftentimes eviction and violence against women, Al Jazeera noted. 
People like Ahmed, who have returned to Mogadishu after leaving Somalia due to the famine, haven't found much aid once coming back. Aid agencies haven't provided returnees with food since they arrived back in the country, sources told Al Jazeera.
Agencies are having trouble finding enough food to even bring into the country — a fact that is even more startling considering that the U.S. wastes 50% of the produce it grows each year. The Somalia Humanitarian Response Plan has only received 32% of the funding it needs, Peter de Clerq, the U.N.'s humanitarian coordinator for Somalia said in a statement, according to Time. "Additional resources are urgently required to boost response and ongoing efforts to sustainably address malnutrition and access to food," De Clerq added. 
Those interested in helping with the food crisis in Somalia can donate money through the United Nation's Humanitarian Fund in Somalia. All money given will be used by humanitarian NGOs and UN agencies in the country "to assist the most vulnerable communities and people," by providing them with "urgently requiring food, water, shelter and other basic support," the website noted.