Canada is offering Newfoundland residents six figures to move house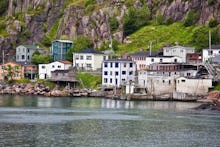 Free land, jobs and money, if you're willing to move?
It seems too good to be true — but not for our neighbors to the north, who have just gotten two sweet propositions.
First: A now-viral job posting from a farmer's market in Cape Breton in Canada offers modest pay and two acres of land for anyone willing to relocate to the mountains and embrace a simpler life (though you'll have to pay to have the land put in your name).
Unfortunately for aspiring American emigrants, the offer was extended only to Canadians. Also, the job "cannot offer you big money," per the above post.
Still, more than 3,100 people ended up applying, and the farmer's market was so inundated with calls the group set up a special voicemail message to handle the responses, according to the CBC.
Incidentally, there's more than just land in store for other Canadians willing to make moves.
Bloomberg reported Wednesday that residents of some coastal Canadian towns with dwindling populations are being offered a big sum if they'll relocate somewhere else. 
Residents of the Little Bay Islands in Newfoundland and Labrador have reportedly been offered $250,000 (Canadian) to leave the town, and some populations may have been offered $270,000. Five Newfoundland communities have made requests for relocation funds since 2010. 
Why?
The government is invested in getting residents to move because industries that once sustained these secluded communities — think fishing and mining — don't pay what they used to, Bloomberg reported.
That's forced many fisheries — a staple of the region — to shut down, and other important industries like mining and oil are also in decline, meaning there are fewer jobs to go around.
"You weren't making a fortune, but everyone who wanted to work could. Now they're all retired," Perry Locke, Little Bay's former mayor, who now runs the local power station, told Bloomberg.
Without a large tax base, the Newfoundland area as a whole has been forced to shutter schools and libraries.
If the regional authorities really want residents to move, they could raise the bounty — making the opportunity cost of staying on even higher. For now, at least some residents are stubbornly staying put in the small-knit community with panoramic views.