The Weeknd's 'Starboy' album cover art includes a shocking twist: his haircut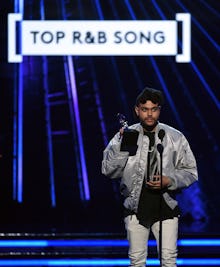 The Weeknd revealed some major announcements packed into a single Instagram post on Wednesday, including a new album titled Starboy, neon chromatic cover art and, perhaps most importantly, a brand new haircut.
Though fans have been expecting a follow-up to 2015's Beauty Behind the Madness, nobody would have expected the R&B crooner to chop off his classic locks, which have ultimately become a staple of his image. The cover shows a contemplative Abel Tesfaye, the 26-year-old hitmaker, in front of a pink-and-red-hued wall with a large cross hanging from his neck.
Rumors have been swirling surrounding the Weeknd's anticipated follow-up to his chart-topping success. Though the singer largely keeps out of the limelight, communicating with fans and teasing new projects occasionally through social media, a slew of unheard tracks were released in an apparent leak in May. 
Most recently, reports indicate the Weeknd is teaming up with Daft Punk to collaborate on Starboy, after a Republic Records executive vice president teased in a Billboard roundtable the trio were planning a joint studio session.
Though no official release date has been announced, there's a chance we'll find that out eventually on Instagram — and possibly catch another glimpse of the Weeknd's captivating new look.
For now, here's a GIF predicting what he might look like on the red carpet without his signature do: