How to buy a romantic engagement ring without going broke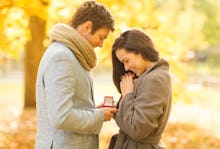 Weddings? Babies? You are not there yet: Right now it is all about the engagement ring.
The history of proposals with engagement rings, diamond ones in particular, is certainly problematic. Critics say the custom is sexist, traditionalist, a product of oppression or, at the least, overly commercialized.
Yet, despite these issues, many straight women — and even some gay men and women — expect a proposal to come with a diamond ring.
You have Mary Frances Gerety to thank for that. She's the copywriter who, in 1948, came up with the DeBeers tag, "A diamond is forever," thus transforming the engagement ring into the $5 billion industry it has become.
Assuming you and your prospective fiancée (or fiancé) want an engagement ring to be part of your proposal story, you may have a few questions.
Namely, how to find the right ring and how much to spend.
Like shopping for a house or a car or an education, buying a ring is a rare and special purchase — and the salespeople you'll encounter have likely made this same transaction a dozen times before lunch. So if you're not careful, you could get pushed into spending way more than you want.
Even out the playing field by asking yourself these three questions first, well before busting out that credit card.
How much should you really spend on an engagement ring?
Recent research suggests that a diamond is not, in fact, forever. 
Not only do diamonds have terrible resale value, but they may cost you in other ways: Economics professors at Emory University found the more expensive an engagement ring, the more likely the marriage is to end in divorce. 
That's a great reason to ignore "traditional" guidelines suggesting a ring should cost one to three months salary.
For someone making $35,000 a year, the median salary of a 29 year old, that rule has you spending between roughly $2,900 and $8,700. Indeed, the average cost of an engagement ring bought in 2015 was $5,781, according to a survey by the Knot.  
But, again, we have the fine folks at DeBeers to thank for the "tradition": The idea of men spending a month's salary on a ring was a marketing push that helped the company, which owned 60% of the rough diamond market, through the Depression. 
So don't feel guilty neglecting "rules" and just following your gut.
These days, many people want to spend less on engagement rings: one in three say $1,000 is a good maximum price, according to a recent survey.
As for a minimum? That same Emory study found a floor to how low you can go: $500. Spending less than that on a ring was a marriage-killer, too.
_____________________________________________
Read more: 
What engagement ring should you pick?
Let's be real. Some data suggests less than half of women get exactly the ring they want.
And yet, nearly 90% of women said they did not want to be involved in the engagement ring shopping process, in a survey by The Knot.
That can make it extremely hard to figure out what style of ring to get.
If the element of surprise seems important for your proposal, your best bet is to slyly seek other sources of insight: Spy on your honey's existing jewelry collection, and get friends and family on your side. They can ask helpful questions — "What do you think of Amanda Seyfried's engagement ring?" or "Is this wisdom tooth ring creepy or cool?" — without necessarily raising suspicion.
Have them report back to you before assuming your boo wants a big diamond ring, or that a classy or quirky alternative will pass muster.
Generally, in addition to the type of gem, whether a diamond or something else, you'll need to choose a shape, metal and setting. 
These decisions can be even harder than picking out a diamond because there's no objective scale for how "traditional" or "bohemian" your fiancée-to-be is. That's subjective and fungible.
Again, ask for help if you need — and trust your gut.
There are several tricks you can use to estimate ring size, and one helpful rule of thumb is to go a little big rather than too small to avoid the risk of the ring not fitting.
How do you choose a diamond?
Bezels, inclusions, scintillation.
If you're set on getting a diamond, you'll have to keep up with the jewelers. It may feel like learning a new language.
Start with the Gemological Institute of America's four Cs: color, clarity, cut and carat weight. A basic understanding of these categories will take you far in your negotiations.
Size matters: A diamond's cost generally increases with its carat weight, but two diamonds of equal weight can have very different prices depending on the clarity, cut and color.
As you get dizzy looking at dazzling jewels, keep your financial picture in focus. Based on your existing expenses, expected income, and level of savings, come up with a budget that will mark the occasion without breaking the bank.
Some jewelers offer financing on rings, occasionally with no interest for a year if paid off in full. Be sure to get that bling paid off, because the APR could spike. That won't make for a good honeymoon.
And remember: You know your partner best. It might be they don't want or need an engagement ring at all.
In that case, bust out a Ring Pop and save your hard-earned cash for the wedding or honeymoon: That same Emory study found that couples who honeymooned or those with more guests attending their wedding — no matter how cheap the trip or simple the ceremony — had longer lasting marriages.