Gary Johnson effectively ties Donald Trump among military voters, new poll finds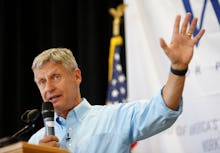 The U.S. military has a historical tendency to back Republican candidates for commander-in-chief. But after 15 years of seemingly endless war in Afghanistan and the Middle East, members of the active-duty military are increasingly backing third-party candidate Gary Johnson for president.
A new poll released on Wednesday and conducted by the Military Times and Syracuse University's Institute for Veterans and Military Families shows the Libertarian candidate has strong support among the troops.
Republican Donald Trump leads Johnson 37.6% to 36.5%, but that's well within the poll's 2% margin of error. Democrat Hillary Clinton, the former Secretary of State, gets just 16.3%.
Support for the candidates differs among enlisted troops and officers.
Enlisted troops prefer Trump (39.8%) over Johnson (36.1%). Clinton got just 14.1% of their support. However, among military officers Johnson gets 38.6% and Clinton holds a narrow lead, with 27.9%, over Trump's 26%, again within the poll's margin of error.
Neither Johnson, the former governor of New Mexico, nor his running mate, former Massachusetts Gov. Bill Weld, have served in the military. But their platform on defense and foreign policy resonates with many in the military.
"The idea that we can defeat terrorism by simply putting more boots on the ground or dropping more bombs ignores the reality that this expensive tactic simply hasn't worked. In fact, it's made the situation worse," their campaign website says.  
A spokesman for the Johnson campaign told Mic that he's not surprised by the results of the poll.
"The Military Times poll shows what we have seen in other surveys, that military women and men appreciate Governor Johnson's pledge to deploy the military very judiciously and only with clear missions," Joe Hunter said in an email. "The members of our military volunteered to protect and defend the United States. They did not necessarily sign on to build foreign nations, become embroiled in conflicts that defy resolution, or put their lives at risk for unclear purposes. In short, they appreciate Gov. Johnson's belief that we should have a military second to none, but which is only used for the right reasons."
So why do many members of the military support the third-party candidate?
The poll found that more than 68% of respondents described Trump's temperament as poor. More than 87% said they had doubts about Clinton's honesty. "There is a lot of frustration out there now," Nick Armstrong, the Institute for Veterans and Military Families' senior director for research and policy, told the Military Times. "At the end of the day, all of these service members are thinking, 'Do I trust this person as commander in chief?'"
According to the poll, 90% of the troops surveyed oppose Clinton's use of a private email server while she was at the State Department, something many have complained would get them sent to jail. And about 60% said they didn't like the way Trump spoke about Khizr and Ghazala Khan, the parents of a Muslim American soldier killed in Iraq, who criticized him at the Democratic convention.
The results among the services are also interesting. Johnson gets 42.3% of support from members of the Navy and 37.8% from the Air Force. But respondents from the Army and Marine Corps decisively back Trump, with 40.6% and 50.4%, respectively.    
The poll of 2,207 respondents was conducted between Sept. 8-15, a day after Trump and Clinton appeared at the Iraq and Afghanistan Veterans of America "Commander-in-Chief" forum in New York City. IAVA was widely criticized for not including third-party candidates in that forum. And the poll began the same day Johnson made headlines by responding to a question about Aleppo, the besieged city at the heart of the Syrian conflict, with: "What's Aleppo?"
Ron Paul, an Air Force veteran who ran as a third-party candidate in 2008 and 2012, also garnered large support from the military during both of his campaigns.