Apple employees say their mental health issues came from alleged hostile work environment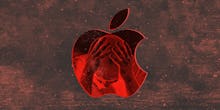 Before he worked for Apple's call center, Ben* had a clean bill of mental health. Now, after about a decade working for the company, Ben has a debilitating fear of telephones. He's tried to kill himself twice.
He says it's all because of the environment at Apple.
"Every time I've been in the hospital and mental ward, there has been another Apple employee with me," Ben, a current employee of the company who is now on long-term disability, told Mic. "And I've been there three times."
"Nobody ever thought it was going to happen before I tried to hang myself," he said.
Ben first attempted suicide in 2011. He said that following his attempt, when someone appeared to be suffering from mental health-related stress within his department, employees and management would refer to it as "Ben-ing out."
"It was openly discussed and used by management, too," he said. "I was in the hospital for suicide help. And nobody can get help because they've stigmatized my situation."
He said that he was at first hesitant to talk because "Apple is huge."
"We've been working on this for five years and we haven't been able to get anyone to help us," he said. "Everyone just looks at you and laughs at you because you're talking about Apple, and Apple is so central and so loved that no one will talk to you."
"It feels like the Catholic church scandal."
In April, a man died by suicide on Apple's Cupertino, California, campus. For those outside the gates, it seemed to be the first time something of this severe nature happened at the iconic tech company. But according to current and former Apple employees, mental health issues developing in toxic work environments are more widespread than the incident that made headlines this year.
Mic spoke to a number of Apple employees, former and current, who attribute their mental health issues to the workplace environment at Apple, which they describe as toxic. In each instance, the Apple employee raised these concerns to human resources or their manager. In each instance, their complaints were met with silence — or retaliation.
Because of an alleged pattern of retaliation against employees who report mental health issues, each source requested the use of a pseudonym. Mic vetted each story using documents from several sources. Pseudonyms are marked with an asterisk on first use.
Allegations of a corrupt system
"We push this stuff all the way up," Ben said. "We go through the business conduct line. We go through the ethics line. It's supposed to be anonymous, [but] it comes to our manager [the subject of the complaint]. It completely destroys any confidence anybody has. I know no one that has gone to business conduct because they don't want to out themselves anymore. That is how broken and corrupt the internal system at Apple is."
Hannah*, a former Apple employee from the Cupertino office, said that she filed a complaint with HR regarding a male manager who "would do the body scan, when men look at you and look at what you're wearing ... He made me feel very uncomfortable."
Hannah reported him to human resources and was told it had been addressed, but no one from HR would tell her what, specifically, they had done to resolve her issue. "I felt like they were brushing me aside," she said. "They would ignore me if I saw them in the hallway. It was a very toxic environment."
Hannah also said that she submitted a "pretty negative" peer review of her male co-worker, who found out about the supposedly anonymous report and treated her negatively in response. Following this review, he was given a promotion, while she "basically got demoted" through the sudden creation of a new tier in the corporate hierarchy above hers.
She went back to HR following his promotion, feeling that her career trajectory had been compromised.
"They said, 'You just need to play the game, or else maybe you do not belong here.'"
Both the person she reported to and the HR point of contact were men.
Allegations of a toxic culture
Marcus*, a former Apple employee who worked at the company for six years, told Mic that he was "so depressed" while he worked there that he decided to become homeless for a time in order to get "some sort of release" from what he felt was "controlling" him. For four months, while working at Apple, he was sleeping in parks, underneath highways, "basically anywhere." He had begun to have suicidal thoughts shortly before becoming homeless.
"It was a completely chaotic spiral into depression — into not feeling like anyone gave a shit," he said.
When asked if he ever felt like this prior to working at Apple, he said he had not. "No. Not at all."
Marcus, who is Latino, added that a senior specialist once called him a "wetback" during his time at Apple. He didn't file a formal complaint because he was concerned he would be brushed aside and mocked behind his back.
"I brought up having a meeting with HR with a couple of my managers because I felt they weren't taking me seriously at one point, but nothing ever came of that," he said.
Lydia*, an Apple employee, told Mic that she had mental health issues because of her work — she had to undergo psychiatric care, including anxiety medication — something she let HR know on two occasions when she brought up complaints of a hostile work environment.
She is still under psychiatric care, and she said Apple is still investigating her complaints.
Another Apple employee told Mic that "the running joke is that Foxconn," a Taiwanese Apple supplier whose notoriously poor working conditions are so severe, the company had to install suicide nets to catch workers attempting to jump to their death, "has nothing on Apple."
"Mental health was always an issue, and not only in my department," Jackson*, a former Apple employee who cited rampant racism, bigotry and discrimination as his reasons for leaving, told Mic. "Apple tries very hard to hold an iron curtain around the news that happens on its campus, because it does not look good for their image to let the public know about the suicides, suicide attempts and mental breakdowns that occur on a daily basis."
"Right before my departure, I heard management joking that they should make a rule that anyone going out on mental health breaks is obviously not fit for the job, so they shouldn't promote them," he said. "I can only imagine this mentality, even in joking, came out in literal ways through their managing. My department had one of the highest turnover rates because of the stress."
The manifesto
Mic obtained a six-page document — "My 95 Theses for Change [...] (Reduced to 35)" — written by Chris*, a former Apple employee on his last day of work in January 2012. He said in an email that he put it on "many desks, servers, websites, etc." before he left, and left copies under his manager's door. An Apple employee who worked there at the time said it was also uploaded to the office wiki. The document outlines several cases of discrimination and harassment in the workplace, and includes supporting statements that filing complaints did not improve or resolve issues employees were having on those fronts.
Some of the document's major points appear below:
"Injustice in the workplace should be seen as a threat to unjust business practice and seen as a threat to a safe workplace."
"Reporting racism and racist activity to HR should not result in prevention of promotion."
"Should an employee need to change their seating arrangement due to personal conflicts, the employee moving should be given choices other than being swept under the rug."
"When racist statements are made, an apology should be issued for the statement, not the possibility of a misunderstanding. Apologizing for a misunderstanding [is] not actually an apology."
"There should be no superior race, age or gender in the workplace and thus statements made that may engender this feeling should be dealt with visibly."
"The culture in [this department] should be one of inclusion in which all individuals are valued."
"A person's gender should not affect how they are spoken to in the workplace. No one should leave a business-related conversation and believe that the way they were spoken was directly related to [their] gender. Toleration of this behavior drags all of the [this department] down."
"Apple should not retaliate against any employee for filing a complaint or participating in the investigation of any such complaint and will not tolerate retaliation by management, employees or coworkers; Giving a job to an employee, letting the aftermath of certain jokes hit the fan and then taking that same job away sure felt like retaliation. This place needs to be cleaned up and I no longer want to be a part of it."
According to Ben — who was on disability after a suicide attempt when the document was circulated, but received a copy from his co-workers — Apple went into its email server and removed the message from everyone's inbox.
"It was [internally nicknamed] the 'manifesto' because management compared it to the Unabomber letter and billed [it] as the ramblings of a disgruntled employee," he said.
A pervasive problem
"We have an amazing team at Apple who are dedicated to creating the world's best products and enriching people's lives," an Apple spokesperson told Mic in an email. "Our culture brings out the best in people and treating one another with dignity and respect is at the core. Employees are free to suggest new initiatives, raise concerns, and provide feedback. We offer generous benefits such as paid family leave, extended maternity and paternity leave, student loan refinancing and tuition reimbursement in addition to providing stock grants to the entire company, including part time employees. This work environment and culture are among the reasons we have such low turnover. "
The spokesperson did not comment on the specifics of any single complaint.  
These problems are not unique to Apple — they're part and parcel of a larger, more pervasive mental health crisis, one which experts believe to be spurred by the intense and often hostile climates of Silicon Valley's tech startups.
But though these problems aren't endemic to Apple, a pattern of employees alleging discrimination and frustration suggests a work culture that both views mental health issues as a weakness and treats the reporting of the factors that contribute to the issues as a punishable offense. Instead of clear, decisive responses to these employees' formal complaints, they allege Apple responded with retaliation or demotion. Whereas smaller Silicon Valley startups may excuse their dearth of mental health resources as the result of insufficient funds or other resources, Apple, which last quarter posted revenue of $42.4 billion, cannot use that excuse without raising more than a few eyebrows.
After the 2012 revelations of worker abuse at Foxconn, Apple CEO Tim Cook responded with some strong words about the Apple supplier. Cook said in an email to employees his company would not "stand still or turn a blind eye to problems in our supply chain. On this you have my word."
A sentiment, arguably, that many Apple employees want to see applied to their own workplaces.
Editor's note: For information about suicide prevention or to speak with someone confidentially, contact the National Suicide Prevention Lifeline at 1 (800) 273-8255 or the Crisis Text Line at 741-741. Both provide free, anonymous support 24 hours a day, seven days a week.