Amber Rose wants you to know that makeup is powerful, and slut shaming is getting old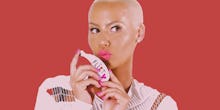 Amber Rose, model, author, activist and entrepreneur, is a busy woman. 
In just the past six months alone, she's expertly clapped back at online commenters making homophobic remarks about her son. She's spoken out about stretch marks and the importance of raising her son as a feminist. She's stood up for herself against slut shamers, who've come for her in the form of internet trolls, and one of her exes. She's launched her very own talk show and landed in the cast of the latest season of Dancing With the Stars. And she's done all this while managing a beautifully-orchestrated Instagram account that's chock full of darling videos of her son and perfectly-lit selfies. 
Now, Amber Rose is turning her attention to the beauty world, determined to shake it up. 
Just a few weeks ago, it was announced that Rose would be the face of Flirt Cosmetics, an offshoot of Estée Lauder. In an interview with Mic, Rose said she had no way of predicting that she'd be the face of a brand owned by a company as powerful as Estée Lauder, which has been around for more than 50 years, especially after years of being told she wasn't good enough. She is, after all, a curvy woman of color with a shaved head and tattoos, but Lauder mentioned that it was her unlikeliness that attracted them to her. 
"Funny story. Initially I was told, like, 'Estée wants to do beauty with you,'" Rose said. "And I was like, 'Wait really?' They were like, 'We love your bald head. We love your tattoos and we love how you don't give a fuck.' And I was like, 'Wait, you guys are Estée Lauder, right?'"
The first product Rose is repping for Flirt is a false-lash applicator that's on sale for $28. Compared to other products in Estée Lauder's repertoire — like this $110 repair cream and this $98 serum — it's a steal. 
And that level of accessibility isn't a mistake on Rose's part. Her entire personal brand is based on her journey from coming from nothing, and rising above any and all expectations. As a spokeswoman for a beauty brand, she presents an entirely relatable face. 
"People are very excited about it. I don't come from money. I'm a girl from Philly," Rose said. "I relate to the everyday girl. And they just think it's really, really cool that somebody like me is able to be the face of a huge brand."
What makes Rose a natural fit for being the face of a beauty brand, though, is how she's been a hugely vocal champion of expressing yourself, whether that means using makeup a lot, or really not at all. 
"I'm all about individuality. Being who you are and whatever makes you comfortable," Rose said. "Whether it be black goth makeup or glam makeup or white makeup. Whatever makes you feel comfortable and beautiful." 
To ensure that people get that message, Rose says it's important for people who break the norm of tall, thin, white, cis female models to be included in beauty ads.
"I would like to see more brown skin women with beauty brands," Rose said. "I feel like black women and dark-skinned women don't get enough love. They don't get the love they deserve for their skin and their beauty. More brands should embrace that." 
Additionally, Rose would love to see men in those beauty ads. "There's a lot of guys who love makeup as well," Rose continued. "I would like to see a guy in a full face. I think the world is ready for that."
Speaking of this sort of free expression when it comes to beauty and fashion, Rose is of course most known for her tireless crusade to put an end to slut shaming. Since 2015, Rose has hosted a her own Amber Rose SlutWalk Festival in Los Angeles. It is, other than her own child, her baby. 
"Every single year, I put my blood, sweat and tears into the SlutWalk. It is a non-profit and it's a lot of work, but it's a celebration of women," Rose said. "I've talked to a lot of women and they said it completely changed their life. They think differently coming in. It's one day and one day changed their lives and perspective."
As a victim of nearly constant slut shaming, Rose has been one of the most prominent defenders of the movement. To the 2015 Video Music Awards, she arrived in a jumpsuit painted with slurs that have been thrown at her, including "slut," "whore," "gold digger" and "bitch." 
What she wishes now, though, is that more famous women would join her.
"I see myself getting slut shamed all the time. It's been a lot," Rose said. "I've said this before, but I take all the punches for women so they don't have to. It really does get frustrating when no one else has my back. No one ever comes out and says anything. I don't know if they're scared or they don't want their peers to look at them in a certain way." 
"We have the followers," Rose said. "We have the fanbase. We have the ability to make a difference. Everyone has a different passion. It's cancer or AIDS awareness, and mine's for women. It's my passion. It's what I do on social media. It'd be nice for women to stick together and speak up about what really goes on."
But according to Rose, what will actually move slut shaming closer to being extinct? Although women uniting is one step, the other is bringing men into the movement as well. 
"My entire team is men and they're male feminists," Rose said. "So working for me, for the past couple of years, they're appalled when they hear a derogatory label. They're so used to being around me. I feel like as women, yes, it is helping other women, but it's also spreading the word. Talking to your father or boyfriend or friends. I'm doing that now with my [Dancing with the Stars] dance partner now, Maks [Chmerkovskiy]. He's the sweetest guy in the world, but he does not understand my movement. He's getting it step by step."
For Amber Rose, the future should be a world free of slut shaming, one that is not afraid to have people of all shades and sizes representing beauty and fashion brands.  
Doesn't sound too bad, does it?