Here's everything we know about 'The Last Guardian' so far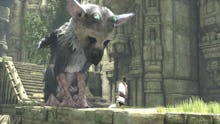 The Last Guardian, a PlayStation 4 exclusive title, has been in development since 2007. Years of delays pushed the game back to a 2011 release, which never happened. Now, in 2016, The Last Guardian is finally set to arrive on Dec. 6. Hailing from the creator of Shadow of the Colossus, The Last Guardian has the look of a compelling action-adventure. 
Here's what we know so far.
Plot: The Last Guardian's narrative is portrayed via flashbacks in an otherworldly land. From the official PlayStation website:
Facing unknown dangers in a strange and mystical land, an ordinary young boy and his gigantic feathered friend must rely on each other to survive in this harrowing story of friendship and trust.
And just who is this boy? He's both the narrator of the flashbacks and the central protagonist of The Last Guardian. It's unclear what his name is, or if he has one at all, but the "gigantic feathered friend" in question is called "Trico," a half-bird, half-mammal creature resembling a griffin. 
For further insight on what's to come, take a look at this trailer from 2016's Electronic Entertainment Expo:
_____________________________________________
Read more:
Gameplay: The Last Guardian implements a third-person perspective, as the player guides the young boy on his journey with Trico. Players do not get to physically control Trico, but they are very much responsible for guiding its actions. Furmito Ueda, the director and designer of The Last Guardian, has spoken about his team's desire to program Trico with "animal instincts."
"Throwing something that catches his interest will get him to move — you aren't working with him and giving him orders, but you're more taking advantage of his natural behavior," Ueda said in an interview with 1up. "Sometimes, you'll need him to sit still in order to finish a section, but he'll run off on you instead. He's not all that smart, and he won't necessarily do what the player wants all the time."
With that in mind, the player must navigate Trico through this mystical land with a combination of action-adventure and puzzle elements. Over the course of the game, the boy's bond with Trico strengthens, further driving home the realistic animal behavior. There doesn't appear to be a whole lot of combat in The Last Guardian — Trico, with his bulk, looks set to do most of the fighting, though a report from Game Informer acknowledged the boy eventually obtains a weapon. Many times, however, gameplay will revolve around stealth and agility. 
Here is a gameplay trailer, courtesy of Zero Lives:
The Last Guardian hits shelves on Dec. 6 exclusively on PS4.