'The Daily Show' tackles Trump supporters and their conspiracy theories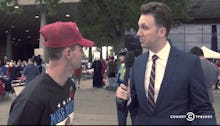 Trump supporters sensed that something was off about Hillary Clinton's health weeks before she announced that she had pneumonia — what else do they know that non-Trump supporters don't?
That's the question that The Daily Show correspondent Jordan Klepper set out to answer when he hit the road for a segment that aired on a recent episode.
Klepper polled earnest Trump supporters outside of one of the candidate's rallies about what's really been going on during the 2016 presidential election. Their responses? Shocking, to say the least.
The old favorites were there ("Barack Obama is a Muslim, he's a terrorist and nobody will ever tell me different," one woman cheerfully proclaims) along with some new twists on the classics ("He acts like a Muslim, he talks like a Muslim, he also does the Muslim principles as far as jewelry is concerned," says one man, hypothesizing that Obama only wears his wedding ring during certain months of the year, and also hypothesizing that it's some kind of Muslim tradition to do so). 
Also, the Hillary Clinton body double truthers were out in spades ("That one," a man says, confidently pointing to one of two identical images of the Democratic candidate that he deemed to be the phony stand-in).
And one brave man who was willing to say what no one else could: "Barack Obama had a big part of 9/11," he told Klepper, citing the fact that Obama was never in the Oval Office and constantly on vacation when the terror attack occurred.
With the election inching closer and the first official presidential debates about to begin, one thing is abundantly clear: The Daily Show may not be the national treasure it used to be, but it certainly still has its moments.