7 questions Donald Trump should have to answer at the first 2016 debate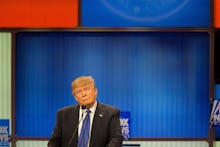 The first televised prime-time presidential debate between Donald Trump and Hillary Clinton is just days away.
The debate will take place at 9:30 p.m. Eastern on Monday night at Hofstra University in New York. The topics of the debate are: "America's direction," "achieve prosperity" and "securing America." The debate is divided into six segments of 15 minutes each and NBC News' Lester Holt will moderate.
These are some questions we'd like to see Trump answer.
Can you tell us what exactly is your plan on immigration? 
Trump has made many comments about immigrants. Since saying he would ban Muslims from entering the country, his campaign now has a revised, more comprehensive plan on immigration. 
"We are the only country in the world whose immigration system puts the needs of other nations ahead of our own," his campaign website says. "That must change."
After the recent bombings in New York and New Jersey, and the stabbings in Minnesota, Trump said U.S. immigration laws were partly to blame. "These attacks were made possible because of our extremely open immigration system, which fails to properly vet and screen the individuals or families coming into our country," he said Tuesday in North Carolina.
The one thing Trump hasn't strayed from is his plan to build a wall along the Mexican border, and getting Mexico to pay for it.
Who would you like to see appointed to the Supreme Court?
In May, Trump released a list of 11 people he would consider for the Supreme Court vacancy, left open by the death of Justice Antonin Scalia in February. One of the people on the list is Texas Supreme Court Justice Don Willett, has openly mocked Trump on Twitter, even referring to him as Darth Vader.
Trump has also made controversial comments about the First Amendment, declaring an all-out war on much of the press. He's also questioned whether the New York bomber, who is an U.S. citizen born in Afghanistan, deserves due process. And his position on abortion has been unclear, but last week he sent out a campaign letter saying he opposes taxpayer-funded abortions.
_____________________________________________
Read more: 
As president, how would you use social media?
The New York Times posted a piece in August titled, "The 258 people, places and things Donald Trump has insulted on Twitter: a complete list." The list has grown since then.
President Barack Obama warned against Trump's so-called Twitter diplomacy during a campaign speech for Hillary Clinton in Philadelphia earlier this month. 
"Listen, what you come to realize when you're in this job is, anybody can pop off, anybody can fire off a tweet," Obama said. "Everybody is a critic. But that doesn't mean you know what it's like to manage a global crisis."
In April, Trump said he would stop tweeting if he were elected president. "Don't worry, I'll give it up after I'm president. We won't tweet anymore. I don't know. Not presidential," he said at a rally in Rhode Island.
How do you envision the United States' place in the world?
Trump's critics say his "America First" motto makes him an isolationist.  Clinton, the former Secretary of State, has said Trump would not be diplomatic in the White House. Others say Trump might actually engage more on the world arena, if elected. 
Trump, the author of The Art of the Deal, often boasts he is an exceptional deal-maker, and he's a huge critic of the Iran deal. His policies on immigration, NATO, military intervention and foreign policy, and his praise for Russian President Vladimir Putin have many wondering if he knows the consequences of his words.
"What's astonishing about Mr. Trump, though, is the obvious casualness with which he muses about such matters — as if the words of even a potential commander in chief do not influence world affairs the moment they are uttered," the Washington Post's editorial board wrote.
You talk about replacing or removing generals in the military. How exactly would you do that?
"I know more about ISIS than the generals do. Believe me." Trump said in November. The man who famously "fired" contestants on his NBC reality shows, The Apprentice and The Celebrity Apprentice, said he would replace his generals once in office as commander in chief.
"They'll probably be different generals, to be honest," he said at a forum on military and veterans issues in New York earlier this month.
"Mr. Trump does not seem to realize that active-duty generals are long-serving, apolitical professionals who do not belong to any one administration or president," said retired Army Lt. Gen. David Barno, who commanded U.S. and allied forces in Afghanistan from 2003 to 2005, told Time. "On January 20th, there won't be any Trump generals or Clinton generals. There will only be America's generals, no different than today."
How would you calm the tension between law enforcement and the black community in this country?
After several high-profile police shootings in the United States, and the ongoing violence in many major cities like Chicago and Baltimore, Trump said Wednesday at an event in Cleveland he was "very troubled" by the recent police shooting in Oklahoma.
"Tremendous believer in the police and law enforcement because we need that for our society," Trump said. However, he also questioned the officers involved. "People that choke, people that do that, maybe they can't be doing what they're doing."
Trump often speaks quickly after police shootings. After the Dallas shooting, he tweeted that the United States must "restore law and order."
Trump also said he'd like to bring New York City's controversial "stop-and-frisk" policy to the entire nation. 
You've been on each side of many issues, including abortion, gun control and the Iraq War. How can Americans trust that the platform you're running on now will guide you as president?
Trump has contradicted himself many times during his campaign, and throughout his life.
NBC News recently released a list of "117 distinct policy shifts on 20 major issues, tracking only his reversals since he announced his candidacy on June 16, 2015." Trump has changed his mind or revised his position on several issues since declaring his run for president last year, including his statements on banning all Muslims from entering the country and whether women should be punished for having an abortion. He's also made many conflicting statements about the military and overseas intervention. And he now says that Obama was born in the United States.