Brad Pitt reportedly under investigation for child abuse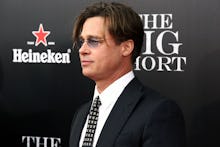 Brad Pitt's abusive behavior toward his children is one of the things that prompted Angelina Jolie to file for divorce, according to a TMZ report.
Jolie announced the split from her longtime partner and husband of two years on Tuesday, citing "the health of the family." 
While rumors swirled that the breakup was caused by Pitt's Allied costar Marion Cotillard (which she flatly denied), the gossip magazine paints a completely different picture:
Sources familiar with the situation tell us, Brad, Angelina and their kids were on a flight last Wednesday when he allegedly got wasted on the private jet. He allegedly went wild, screaming and getting physical with the kids.
The report goes on to say that Pitt's drunken tirade allegedly continued once the plane landed, and someone sent an anonymous tip to the Los Angeles County Department of Children and Family Services. 
Jolie is seeking "physical custody" of the couple's six children.