The Weeknd releases new song "Starboy" featuring Daft Punk, teases upcoming album details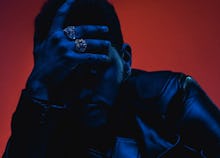 The Weeknd dropped "Starboy," featuring Daft Punk, at midnight Thursday, the title track off his new album and the long-rumored collaboration with the electro-pop duo. It's far from his chart-topping anthems from Beauty Behind the Madness, like "Can't Feel My Face," and distinct from the early, blurred out R&B that landed on Trilogy. It features bright percussion and layer upon layer of brooding '80s-esque synths.
The 26-year-old R&B crooner has been on a role surprising fans as of late, teasing new album art on Instagram while revealing a transformational new haircut on Wednesday. "Starboy" is the first track off the album, which is available for pre-order on iTunes. 
Unfortunately, fans have a while to wait for the album's expected release date of Nov. 25. However, new music could be arriving imminently. There's an iTunes track list with 18 songs, with track three featuring a title: "False Alarm." It's either the album's next single or, well, a false alarm.
"The production feels aggressive but still sexy," the Weeknd, told VMan for the magazine's September cover interview. "The Smiths, Bad Brains, Talking Heads, Prince and DeBarge play roles. We wrote it all in Los Angeles. I think it'll be the best-sounding album I've ever done. It's hard to label the sound because, when I first came out, nobody would label it R&B."
Listen to "Starboy" on Apple Music, Spotify and Tidal and try to label it for yourself.