At NYFW, racial diversity is down, but body diversity is up. Is this real progress?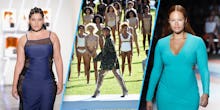 Even before New York Fashion Week began, there was good reason to expect that this would be the most diverse yet.
The Council of Fashion Designers of America (CFDA) sent a letter to all CFDA members before NYFW that included "racial diversity pointers provided by the Diversity Coalition," which was done in an effort to "encourage the industry to be inclusive of racial diversity when preparing casting of models for their company needs." There had also been a trend of fashion weeks becoming increasingly more racially diverse up until now.
But despite all that, racial diversity was actually down at NYFW this season (Spring 2017), compared to February (Fall 2016).
In a new report released by the Fashion Spot, 69.9% of the 2,973 model castings were white this season, with 30.1% being nonwhite. That's a slight but significant dip compared to February, when models of color accounted for 31.9% of castings.
Before this, there had always been a steady increase in racial diversity at NYFW, with Fall 2016 topping Spring 2016, which had only 28.4% nonwhite models, and then the season before that (Fall 2015), saw less than 25% nonwhite models.
So this marks the first time since the Fashion Spot has been crunching the numbers in October 2014 that this general trend toward more diversity has stumbled. Still, we are better than we were a year ago.
"Calls for diversity and inclusiveness are louder than ever," Jennifer Davidson, the Fashion Spot's managing editor, said in an interview. "Not just racial diversity, but size and gender identity as well. Combine that with the upward trend in runway diversity over the past few seasons, and we were expecting to see a better turnout. 30.1 percent isn't terrible, but we can certainly do better."
Now, as far as the designers who did make an effort in terms of racial diversity this year, there was of course Kanye West, who, according to the Fashion Spot, cast 97% models of color for his Yeezy Season 4 show. Then there was Kimora Lee Simmons, who cast 82% models of color.
As far as shows that only pulled these diversity numbers down, we're sad to report that Mary-Kate and Ashley Olsen's label, The Row, cast no models of color for its Spring 2017 show.
There is some good news this season, though. Of the ten most-booked models at NYFW this season, four were models of color: Mica Arganaraz, Lineisy Montero, Selena Forrest and Yasmin Wijnaldum.
Even more surprising than that, Spring 2017 NYFW was the most body positive fashion week ever, with 16 plus-size models walking in shows. Christian Siriano, for example, cast five plus-size models, and Chromat cast seven.
Transgender models also got a good amount of attention this NYFW with eight trans models cast, matching Fall 2016's tally. Chromat was particularly helpful with this number too, casting four transgender models. That show also brought in the only disabled model at NYFW in the form of Lauren Wasser, who lost her leg to toxic shock syndrome.
The question we may be asking now is: What does this mean? Well, it means that body positivity and diversity is getting more attention than ever before, but designers seem to be not as vigilant about ensuring that their runways are racially diverse. So, is this progress? For people who care about seeing diverse body shapes on the runway, it is. For people who care about NYFW runways being representative of America as a whole, not so much.
What is worrisome is that NYFW usually leads the rest of the fashion weeks across the world (London, Milan, Paris). So, that's not so encouraging. But who knows, maybe this is the year that places other than New York realize how important and beautiful diversity on the runway really is.