Transgender woman raped by male cellmate is suing a New Orleans jail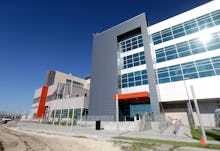 A 20-year-old transgender woman who was raped by her male cellmate in 2015 is pressing charges against the Orleans Justice Center in New Orleans, the Associated Press reported. The jail itself is new, but according to the federal lawsuit, it's inherited the problematic legacy of its predecessor. 
The woman had been behind bars due to a missed court appearance for a misdemeanor charge of disturbing the peace, according to the AP. She identifies as female but her sex is male, and for that reason, she was housed with other men — specifically, McArthur Mackey Jr., a violent offender who the woman says raped her early in the early morning hours of Sept. 21, 2015. According to the New Orleans Advocate, Mackey climbed into her bunk and "forcibly raped" her.
"At all times during the rape, plaintiff repeatedly screamed for help, but no deputy ever came to the cell to investigate," the lawsuit reads, according to the AP. 
According to the Advocate, the guard on duty — "Deputy Sanders" — had allegedly abandoned his post for more than an hour. The victim hit a call button in her cell four times before anyone responded.
The Prison Rape Elimination Act is intended to keep LGBTQ inmates — who face an outsized risk of harassment and abuse — safe, and obligates correctional facilities to consider gender identity in housing assignments. But, as Phil Stelly, a spokesman for the Orleans Parish Sheriff's Office, told the AP, that's not necessarily how things work at Orleans Justice Center. 
"In general, males are housed with males and females with females," Stelly said to the AP. "Gender identity is not considered for housing assignments, however, if a male has a strong female appearance, that person will be placed in protective custody."
Since it opened in September 2015, the Orleans Justice Center has been plagued with problems and an "'absolutely unacceptable' level of violence," according to the New Orleans Advocate, lacking the guards to adequately supervise inmates. Sheriff Marlin Gusman has been widely criticized for the ongoing problems with inmate violence, sexual assault and suicide at the new facility and its predecessor, the Orleans Parish Prison, which the Advocate's called "notoriously dangerous."
According to the AP, the inmate accusing Mackey of sexual assault is suing the jail over its "failure to separate transgendered inmates from the general inmate population."