Notorious "Butcher of Kabul" warlord Gulbuddin Hekmatyar pardoned by the Afghan government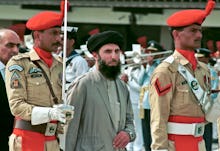 Gulbuddin Hekmatyar, the notorious warlord also referred to as the "Butcher of Kabul," has been pardoned by the Afghan government in a peace deal with his militia negotiated Thursday.
Hekmatyar's militant organization, Hezb-i-Islami Gulbuddin, will be legitimized as a political party under the terms of the new deal. However, Hekmatyar has formerly been classified as a terrorist by the United States and his network a terrorist organization by the United Nations.
The recent peace deal puts pressure on the Afghan government to declassify Hezb-i-Islami Gulbuddin's terrorist organization status.
Notwithstanding, the United Nations Assistance Mission to Afghanistan said it was "encouraged" by the agreement in a statement released Thursday.
In the '90s, Hekmatyar served as Afghanistan's prime minister and shelled civilians in Kabul as he attempted to establish political power. As many as 2,000 people were killed, with thousands more wounded. 
The "Butcher of Kabul" also has a reputation for assassinating his political adversaries.
Human Rights Watch condemned Thursday's deal, describing it as an "affront to victims of grave abuses" in the organization's statement:
Hekmatyar is also linked to serious human rights abuses, including the forced disappearances of political opponents and an underground prison in Pakistan where torture was routine. Bolstered by U.S. military aid funneled through Pakistan in the 1980s, Hekmatyar extended his reach to include targeted assassinations of Afghan intellectuals in Pakistan and violent attacks on nongovernmental organizations that ran education and health programs for Afghan women in refugee camps in Pakistan.
HRW argued the deal reinforced a pattern of absolving abusers of human rights and ultimately undermined stability and peace.
In a BBC profile, Hekmatyar is described as "one of the most controversial figures in modern Afghan history."
The new peace deal and Hekmatyar's return to Afghanistan, after having been in exile, could allow for a revival of his political career.