Mark Zuckerberg and Priscilla Chan are promising to spend $3 billion to cure all disease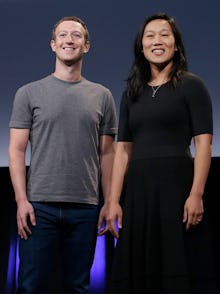 Silicon valley power couple Mark Zuckerberg and Dr. Priscilla Chan announced on Wednesday that they would be donating at least $3 billion over the next ten years toward the "goal of curing disease."
At an event in San Francisco, Chan and Zuckerberg said that the Chan Zuckerberg Initiative — the limited liability company that the couple launched in 2015, when they first announced that they would be "giving away" 99% of their Facebook shares — will put at least $3 billion over the next decade toward projects intended to prevent, cure and manage disease. 
Chan introduced the news with what the New York Times called "an emotional preamble," bringing up her immigrant parents and Max, her daughter with Zuckerberg. 
"We want to dramatically improve every life in Max's generation and make sure we don't miss a single soul," Chan told the crowd, which reportedly included San Francisco Mayor Ed Lee and former secretary of homeland security Janet Napolitano. "We'll be investing in basic science research with the goal of curing disease."
Zuckerberg may be following on the heels of fellow tech billionaire Bill Gates, whose philanthropic organization with his wife, the Bill & Melinda Gates Foundation, has spent billions on "global health initiatives," reports the Times. 
But Zuckerberg isn't the only Facebook co-founder spending big money to influence change — his former partner Dustin Moskovitz announced earlier this month that he would be spending $20 million to defeat Republican nominee Donald Trump this election.
The first investment the Chan Zuckerberg Initiative will make is on "Biohub," reports CNN, a $600 million research center that will partner with scientists from Stanford and other universities to begin the research that Zuckerberg said he hopes will eventually increase life expectancies and make strides toward treating and managing diseases.
"That doesn't mean no one will ever get sick," he said at Wednesday's event, according to the Times. "But they should be able to treat it and manage it."