The new 'Hidden Figures' trailer shows more people doubting NASA's black women scientists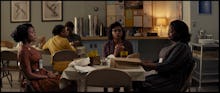 The newly released international trailer for Hidden Figures, based on the true story of three black female NASA mathematicians who help launch an American astronaut into space, is less of a focus on the three female protagonists, and more on the system that continuously tries to oppress them. 
The mathematicians, Katherine G. Johnson (Taraji P. Henson), Dorothy Vaughan (Octavia Spencer) and Mary Jackson (Janelle Monáe), deal with the boundaries of being women at NASA — like not being allowed to attend important briefings. Moreover, as black women, their white co-workers insinuate they should just be grateful to be there. 
The trailer does, however, suggest change is on the horizon. When the head of the space program (Kevin Costner) chides Johnson for leaving her work intermittently, she responds by noting, "The colored bathroom is a mile away." In response, he (literally) breaks that barrier. 
Watch the new trailer for Hidden Figures, out in U.S. theaters Jan. 13, below.
Sept. 22, 2016, 4:45 p.m. Eastern: This story has been updated.