Latinx artists used the #LatinxsCreate hashtag to amplify their artistry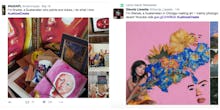 The hottest art gallery for Latinx work in the world right now is Twitter. 
During the past week, Latinx artists have been using the social media platform to share samples of their artistry and discuss their aesthetic style. From paintings to photographs, from realism to anime, the work of these Latinx artists spans genre and format. But, there's no denying that they all share one thing in common: immense talent. 
Twitter user @backthatelfup began the hashtag. On Monday, she wrote a series of tweets about why she wanted to start #LatinxsCreate. She wrote: 
1. I wanted an chill way to showcase all the amazing Latinx creators out there. Which if you check the hashtag, you can see. 2. I chose 'create' because I wanted all types of creators to show off their stuff. There are SO MANY ways to create and I know we're doing it, making art, dancing, coding, writing, designing, producing, filming and more. We do it all. 3. I wanted us all to see each other! Making stuff. Make connections, find each other, collaborate, keep building community. 4. I want us to get paid. To get picked up, to get gigs. We have the skills. I really hope some of y'all get hired or commissioned because of this. Because we need to eat and pay rent and take care of our fams and buy our medicine to keep creating, just like everyone else.
For one Twitter user, the talent was enough to bring them to tears — in a GIF.