Here's just how rich the 10 U.S. richest bankers are — starting with the Wells Fargo CEO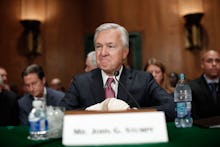 Wells Fargo CEO John Stumpf — whom Massachusetts senator Elizabeth Warren recently said should be "criminally investigated" over a scandal involving sham accounts — was the highest-paid banker in the country last year, according to an analysis of corporate filings from USA Today. 
Stumpf made $19.3 million last year. 
Let's put that in perspective: To earn that same amount, a "phone banker" (essentially a telephonic customer service agent) at Wells Fargo would have to work nearly 1.5 million hours at their $13-an-hour salary, per a job listing on Glassdoor.
That's about 500 years of eight-hour workdays — and no weekends.
Though Stumpf — whose bank was the subject of two major penalties from the Consumer Financial Protection Bureau in just two weeks this summer — came out on top of the top-paid list, JPMorgan's Jamie Dimon was close on this heels at number two.
Here's the full list of the 10 top-earning U.S. bankers:
1. John Stumpf — Wells Fargo CEO — $19.3 million
As you can see, only half of those on the list were top-of-the-company CEOs. The rest are CEOs of specific divisions or serve as chief operating officers, who usually are placed in charge of handling day-to-day operations.
That might be a problem, as Eleanor Bloxham, chief executive officer of The Value Alliance, a firm that specializes in corporate finance, explained to USA Today.
When executives are farther away from the spotlight and scrutiny that a CEO faces, she said, they're more inclined to take bigger risks, especially when there's an enormous payday in their future.