'Game of Thrones': Who will die in season 7? Sophie Turner says some may not survive.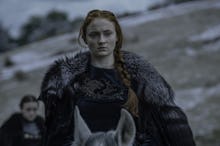 In Game of Thrones, all men must die. So this news shouldn't come as a surprise: Characters are going to be killed next season. The only question is: Which?
Speaking with Variety at the Emmys red carpet Sunday, Sophie Turner — who plays Sansa Stark — said that it's finally hit the cast that the series is about to end, what with two shortened seasons before it's all said and done. But along the way, we're going to lose a few more characters.  
"We've got one more season... well, not all of us," she teased. 
Turner, it seems, is taking a page out of her on-screen sister's book. Last month, actress Maisie Williams told fans on Twitter that "nothing will prepare you" for season seven, so it sounds like even for Game of Thrones' bloody standards, we could be looking at a gruesome affair. 
Certainly, when the current ruler on the Iron Throne took the crown by blowing up the Sept of Baelor with wildfire, and her biggest adversary is sailing toward Westeros with a ton of ships and three fire-breathing dragons — while White Walkers continue marching to the Wall — yeah, deaths should be expected.