Here's what Twitter is saying about the PlayStation 4 Pro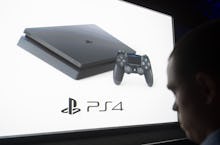 The PlayStation 4 Pro, set to arrive Nov. 10, is the latest edition of Sony's popular console brand. The revamped system boasts 4K resolution and HDR technology along with revved-up hardware. Since its reveal on Sept. 7, the internet has had a lot of thoughts on the new console and its competitors, like Xbox's Project Scorpio.
The response has been... negative, to say the least. Here's what Twitter is saying:
Aside from 4K resolution and HDR, the PS4 Pro doesn't have any real groundbreaking features. The absence of a 4K Blu-ray player is notable.
Others criticized the shape of the new console.
_____________________________________________
Read more:
Whatever happened to that original name? The "pro" title brought out a little snark.
Though there is scattered praise here and there...
...most people just don't really get the point.
Maybe you're better off with another option?