Trevor Noah strikes a somber note in a powerful segment on Terence Crutcher's death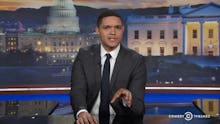 Daily Show host Trevor Noah tried to help Americans make sense Wednesday night of yet another police killing of a black citizen. This time, it was 40-year-old Terence Crutcher, who was fatally shot by Tulsa, Oklahoma, Officer Betty Shelby after calling 911 to help with his stalled SUV.
Video footage shows Crutcher walking away from Shelby and the other officers on the scene toward his vehicle, at which point he's struck with a stun gun and then shot.
On Wednesday, Noah said that while the incident seems "cut and dry" — Crutcher had his hands up and appeared to be cooperating with authorities — there are still a lot of things we don't know.
"What we do know is this," Noah said. "It seems extremely easy to get shot by police in America."
Noah shared a clip from an interview with Shelby's attorney, Scott Wood, where he defends her by pointing out that Shelby's actions couldn't have been motivated by racism — she'd been working a football game at an all-black high school the week before.
"She's worked in this part of town for a quite some time," Wood said.
Noah said he was willing to accept that Shelby wasn't racist, but what he couldn't accept is America's deep-seated biases surrounding race. 
"In an American city there's an all-black high school and that's normal, instead of weird?" Noah asked. "Living in a society where racial divisions are so deeply baked into every part of society that we don't even notice it anymore?"
These racial divisions, Noah pointed out, affect the way we perceive people of different races. When black people are largely portrayed as criminals or Muslims as terrorists, naturally harmful biases thrive.
Noah admitted racism isn't solved overnight; but as people criticize black people for riots and protests in the wake of police shootings, Noah called for empathy. 
"The one thing you can do is not tell black people they're crazy for thinking they're oppressed when every time black people see themselves engaged with the police, it ends with them getting shot," he concluded.
Watch the full segment here or in clips below.