Megacams' sex search engine is using facial recognition in a really creepy way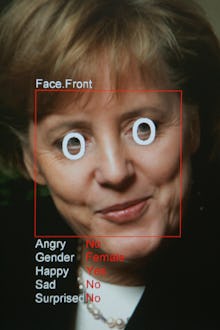 Before there was internet porn, you had to tap into your imagination or gaze at an old photograph of your beloved to get in the mood. Now you can take that photograph, upload it to a search engine that uses facial recognition tech and get matched with a cam model doppelgänger. What a time to be horny and alone.
Megacams, a live sex search engine, just released a new feature that uses facial recognition so you can masturbate to "a person you know," the press release notes. 
"You can upload a picture of someone you want to see nude," the website says. "Megacams will scan your image and match it with all our live sex models in our database. This way it feels like you are having live sex with the person in your picture."
To the flattery or horror of the person photographed, users can upload a picture of someone directly to Megacams. The image will then be processed and Megacams will match the user with cam performers online who look like the image, according to the press release. It also notes that Megacams has a database of over 180,000 cam performers, with approximately 5,000 online at any given time. 
When asked if this facial recognition feature was something Megacams' users had requested, a spokesperson said over email that "there was no direct feature request, but because the technology is evolving fast, we decided to implement it because we saw very good results." 
_____________________________________________
Read more:
This also seems like a great way to dox masturbators' darlings; however, a Megacams spokesperson said that the images aren't stored on its disk, but rather in a "secure database," with all image data removed after 24 hours of the request. 
So how similar do the cam models look compared to the images submitted?
"The results are pretty amazing," the spokesperson said. 
Oh god.
It's unsurprising that a live sex search engine — which already lets you search for women based on hair color, skin type, bust size and more — sees technology as its gateway to a more "realistic" sexual fantasy. It's something we are already seeing with real-time virtual reality porn and robotic sex dolls equipped with artificial intelligence. But facial recognition adds an element of authenticity pointing to an unnerving future of porn. One that, with the right tools and tech, allows porn sites to nearly simulate someone's likeness for your masturbatory pleasure ... without their knowledge.