Gigi Hadid elbows random man who grabs her after fashion show, claps back at tabloids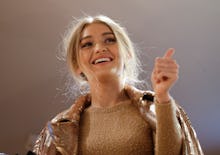 Good job, Gigi Hadid. 
In an admirable display of catlike reflexes, the 21-year-old supermodel threw an elbow straight in the face of a stranger who emerged from the crowd waiting outside the Max Mara show in Milan, Italy, grabbed her and lifted her off the ground. 
"Who the fuck are you, you piece of shit?" Hadid yelled at the man, in what some might call an entirely appropriate reaction to being assaulted on the street. She also began to pursue her assailant, but a handler held her back.
Readers who understand the utility of a well-executed self-defense maneuver might be puzzled to learn that certain tabloids suggested the encounter was a joke to which Hadid overreacted. But he groped her. Isn't grabbing someone against their will a crime of battery? Yes, at least in the U.S.
But many tabloids laughed off the incident. TMZ identified the creepy rando as Vitalli Sediuk as a "notorious prankster," while the Daily Mail called him an "internet prankster." According to the Mirror, Hadid "lashed out" when the "overzealous fan/excited stranger" snatched her.
But it was the UK Sun that went furthest in minimizing the physical street harassment, titling its article "NOT MODEL BEHAVIOR: Gigi Hadid aggressively lashes out and ELBOWS fan in the FACE after he tries to pick her up." 
They've since changed that headline — to "FASHION VICTIM: Gigi Hadid elbows serial prankster in the face after he tries to pick her up in Milan," which isn't that much better but is consistent with its peers' take — but luckily, reporter Rachel McGrath took and tweeted a screenshot. 
McGrath's tweet caught Hadid's eye. The model offered thanks and an emphatic fuck you to tabloids who cast Sediuk as a misguided but ultimately well-meaning admirer.
"To unknown article writer: fan?!!!" Hadid wrote in back-to-back tweets. "The ACTUAL fans that were there can tell you what happened. I'm a HUMAN BEING — and had EVERY RIGHT to defend myself. How dare that idiot think he has the right to man-handle a complete stranger." 
"He ran quick tho," Hadid continued.
Sure did.