Common's "Black America Again" video spotlights policy brutality in an illuminating way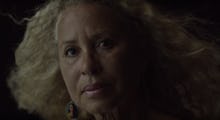 From the very first shot, Common makes clear his latest music video, for "Black America Again," will pull no punches. It opens with raw footage of 37-year-old Alton Sterling being pinned and shot by police in Baton Rouge, Louisiana. As the gunshots fade to an echo, Common's song featuring Stevie Wonder on piano begins, forcing the viewer to look directly into the eyes of people in the crosshairs of police violence.
It's an illuminating piece, and it comes at the perfect time. During a year in which videos of black death seem to flood timelines every week — most recently with the high-profile shootings of Terence Crutcher and Keith Lamont Scott — this video encourages viewers to consider the humanity of faces that are systematically devalued because of their color.
The video weaves vintage footage of black life between slow-moving images of black men and women of all ages. The subjects are contemplative, crying, all in vulnerable states.
Common's powerful lyrics directly call out the systemic racism plaguing the nation. "The new plantation, mass incarceration," he raps. "Instead of educate they'd rather convict the kids/ As dirty as the water in Flint, the system is." They're lyrics Common first teased in June on SiriusXM's Sway in the Morning radio show. 
Common is preparing for the release of an upcoming album that features a variety of socially conscious artists, including John Legend, the Internet, Vic Mensa, Chance the Rapper and more.
Check out "Black America Again" below: