'Harry Potter' site Pottermore now lets you discover your patronus — here's how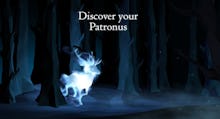 Harry Potter fans: If you want to distinguish themselves among other wizards beyond what Hogwarts house you belong in, how about your own patronus? Thursday, Harry Potter site Pottermore unveiled their latest interactive feature, which allows its members to answer a handful of questions to determine what form their patronus charm would take.
In the Harry Potter books, a patronus is a magical charm that can be used to ward off Dementors. The powerful spell takes the form of an animal based on the caster's personality; ostensibly, it's that person's own spirit animal. In Harry Potter and the Prisoner of Azkaban, Harry's patronus takes the shape of his father's Animagus form, a stag. 
On Twitter, Harry Potter fans have been sharing their results with the hashtag #ExpectoPatronum. Author J.K. Rowling shared her patronus as well. 
You can take Pottermore's patronus test for yourself here.