This gay teen was suspended after trying to bring a date to homecoming. Now he's suing.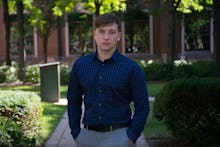 All Lance Sanderson wanted was to bring a boy to a high school dance — but, not only was he told that his Catholic high school wouldn't allow him to bring who he wanted to homecoming, Sanderson was suspended and wound up finishing his senior year at home, doing online coursework.
Now the 19-year-old is suing his former school, Christian Brothers High School, a Memphis all-boys school, under Title IX. But CBHS didn't just discriminate against Sanderson for being gay — it also made school such a hostile and unwelcome place that Sanderson, a former honors student, felt he couldn't even go back.
In a phone interview Thursday, Sanderson said he had been open about his sexuality since his freshman year, and he wasn't the only out gay student. 
"At the time I thought it was fine," he said. "Looking back I'm like wow that was not accepting at all"
Sanderson slowly began to realize that CBHS wasn't the welcoming place he had hoped it would be, something that became especially apparent the summer before his senior year when he broached the subject of bring a same-sex date to homecoming.
"I asked my principal if I could bring a guy to my homecoming, expecting it not to be a big deal," he said. None of his classmates who were bringing opposite sex dates had to seek the approval of the administration. 
According to text of the lawsuit, which Mic obtained, Sanderson had spoken to another teacher about bringing a date to the dance and she was supportive, but told him she "lacked the authority" to give him permission.
But when he asked his school principal about taking a boy to homecoming, his principal's immediate reaction, Sanderson says, was to rattle off a list of stereotypes about gay relationships. "He said all of these things that were very homophobic," Sanderson said. The principal suggested gay people had higher divorce rates, and he mentioned a news story about a gay man who had murdered his boyfriend.
Eventually, after asking repeatedly if Sanderson would "compromise" and go with a group of friends instead of a date, the school reached a final decision. No CBHS students could bring a boy from another school as a date — essentially banning same-sex couples at the dance unless they're both current students, since CBHS is an all-boys school.
Sanderson's story went viral, and thousands of people signed a Change.org petition asking the school to reconsider the decision and let him bring a date to the dance – but the school didn't budge. In fact, the attention that his story was getting made things even harder at school. "It was not a fun week," he said. "People were pretty hostile." He decided to skip the dance all together.
When Sanderson went back to CBHS the Monday after the homecoming dance, he was told to go home — he was being suspended without clear explanation as to why.
Sanderson tried to go back to school once he was told he was allowed, but it proved to be too difficult. "I came back and everyone there acted like I had been expelled," Sanderson said. Other students, even some of his teachers, asked him if he was even allowed to be on campus. "I had students who just, they just hated me," he said.
"I didn't come back after that day," Sanderson said. Instead, he finished out his senior year doing online coursework at home — which left him socially isolated. "I was basically alone for all of that year," he said. "I was stressed all the time, my parents were pretty worried about me ... it was pretty difficult."
Now Sanderson, a college freshman, has decided to file a lawsuit against his former high school on the grounds that it violated Title IX by discriminating against him based on his sexual orientation.
Sanderon's attorney, Howard Manis, explained in a phone call on Thursday that, while it is a private institution, CBHS has taken federal funds. "They are having to be compliant with federal discrimination laws," Manis said, including Title IX which forbids discrimination based on sex.
While Title IX doesn't explicitly address discrimination based on sexual orientation, Manis explained that "recent case law has interpreted sex to include sexual orientation."
The suit, filed on Tuesday, also alleges that CBHS didn't uphold its own code of conduct, which states: "All CBHS students should feel safe, secure and accepted regardless of color, race, background, popularity, athletic ability, intelligence, personality, sexual orientation, religion or nationality."
Sanderson's case is similar to a 2015 case brought against Pepperdine University by two female basketball players who were harassed by their coach after he discovered they were in a relationship. In December, a judge ruled that the case could move forward, suggesting that Title IX could be interpreted as protecting students against discrimination based on sexual orientation.
Sanderson says to him, a lawsuit was "really the only way left" to get through to the school. "I would hope that they would realize that they can't have the policy that they created," he said. "It's 2016, you can't discriminate if you're going to say you don't discriminate and take federal funds."
Mic reached out to CBHS for comment which directed us to the school's attorney, but declined to provide contact information.