Franchesca Ramsey shows Donald Trump supporters what "simpler times" really means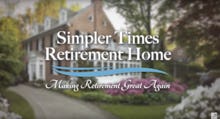 Franchesca Ramsey is back at it again. MTV's Decoded host hilariously took down Donald Trump's "Make America Great Again" slogan through a satirical commercial of a retirement home made to commemorate "simpler times." Simpler Times is a retirement home where political correctness culture is simply not allowed.
The commercial starts out with Ramsey touring the retirement home with an elderly white couple. They meet other residents at the home who make racist jabs at President Obama, and use "whites only" bathrooms and water fountains.
Things took an interesting turn when Ramsey introduced the couple to certain amenities where Irish and Italians cannot enter. It is then revealed that the couple Ramsey is showing around are Irish-Americans, and that "simpler times" also refers to an era where Irish and Italians were discriminated against in the U.S.
When Ramsey gives them a tour of the retirement home's medical offices, she informs the couple that they comply with procedures and regulations dated before the 1950s. This means women couldn't make decisions about their medical needs or health without the approval of their husbands. Ramsey also explained that they couldn't be prescribed modern medicine invented after the 1950s. 
After the tour was over, the elderly couple decided they wanted to make one more change to the retirement home. In a split second, Ramsey — who is black — is replaced with a white woman in identical attire and style. 
The hilarious commercial parody perfectly calls out the Trump supporters who call for simpler times, when all they really want is a time when older white men didn't feel threatened by thriving and growing minority communities.