iPad Pro 2 release date: Here's everything we know about Apple's next device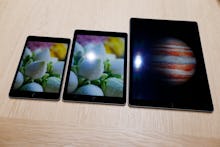 Now that the iPhone 7 and Apple Watch Series 2 have released, attention is turning towards the next big Apple product. That could very well be the iPad Pro 2, if the rumors are to be believed. We still don't have a confirmed release date, but Apple insiders are digging for clues each day. Here's what we know so far: 
Features: the iPad Pro 2 is rumored to be taking a page out of the iPhone 7's book with the addition of water resistance. On that same note, expect the new device to nix the headphone jack just as its smaller cousin did earlier this September. If lightning audio is the new standard for the iPhone, then it's safe to say the iPad and even MacBook lines would receive the same treatment, as well. 
The second generation iPad Pro will supposedly ship three different screen sizes — 12.9-inch and 9.7-inch, just like the previous models, as well as a new 10.5-inch version. Additionally, True Tone Display, which is present in the original iPad Pro and iPhone 7, seems all but a lock for the iPad Pro 2.
_____________________________________________
Read more:
It will likely feature standard design changes like reductions in width and weight along with improved battery life and processing speed, and iOS 10 software is a given. Whether the iPad Pro 2 adopts the iPhone 7 Plus' dual lens camera and pressure sensitive home button remain to be seen. Not many reports have suggested this, but we wouldn't be surprised if they do. Apple has the technology now, after all. 
Release Date & Price: Apple hasn't even confirmed the existence of an iPad Pro 2, so this remains speculation of course, but some are pegging the device's arrival in March 2017. That would be a year after Apple's previous iPad release, the iPad Pro 9.7, and Apple tends to do updates on a yearly basis.
As for the price, it will likely be expensive, per usual. The original iPad Pros are priced at $599 and $799 for the 9.7-inch and 12.9-inch models, respectively. Unless Apple surprises us all with a radical new feature that justifies a higher price tag, expect the iPad Pro 2 to go on sale for a similar number.