Headed for Hofstra: 'Special Relationship' previews the upcoming presidential debates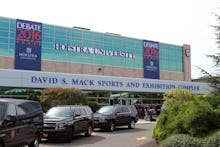 The first debate between Hillary Clinton and Donald Trump is right around the corner, and Special Relationship, the politics podcast from Mic and the Economist, has you covered.
Presidential debates are a longstanding part of American culture, and they've given us plenty of memorable moments — even if their ultimate effect on the outcomes of elections are, well, debatable. They're also fairly unique on the world stage.
In episode 11 of Special Relationship, former Sen. and New Hampshire Gov. Judd Gregg shares the insider's take he earned by virtue of having played both John Kerry and Al Gore in past Republican debate prep sessions.
Next, reporter Jeremy Cliffe of the Economist breaks down the relatively new phenomenon of televised prime ministerial debates in the U.K. and how they stack up with the American way.
Listen here:
Subscribe to Special Relationship on iTunes, Google Play or anywhere you listen to podcasts. Please give us a rating and a review, and stay tuned for our 12th episode.