Here's what will be coming to and leaving Netflix in October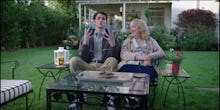 Fall has finally arrived, and Netflix's October slate is chock-full of new series and movies for viewers to enjoy while sipping overpriced-but-delicious pumpkin spice lattes. This month marks the debut of Christopher Guest's new Netflix original comedy, Mascots, featuring many of his longtime collaborators including Bob Balaban, Parker Posey and Jennifer Coolidge, plus newcomers like Silicon Valley's Zach Woods. 
The futuristic, psychological mindfuck that is Black Mirror will premiere its third season — while nostalgic '80s fans only have the rest of September to watch Back to the Future (and its sequels), so be sure to put it at the top of your binge-watching queue before October. 
Below, you can check out all the movies, documentaries, comedy specials and TV series coming to Netflix next month, as well as some of the biggest titles that will be leaving the streaming service. 
Coming to Netflix in October
Oct. 1: 
A Cinderella Story
Barbershop 2: Back in Business
Blue Streak
Breakfast at Tiffany's
Dazed and Confused
Dr. Dolittle: Tail to the Chief
Fairy Tale: A True Story
Ferris Bueller's Day Off
Gentleman's Agreement
Ghost Town
Grizzly Man
How to Lose a Guy in 10 Days
Millennium
Murder Maps, season two
My Little Pony Equestria Girls: Legend of Everfree
Once Upon a Time in the West
Oriented
Patton
Picture This!
Pooh's Grand Adventure: The Search for Christopher Robin
The Queen of the Damned
Quiz Show
Robotech
RV
Saving Mr. Wu
Snake Eyes
Snow Day
Sphere
Three Kings
Titanic
Unforgiven
The Uninvited
Unsealed: Alien Files, season four
Without A Paddle
Oct. 3: 
Dheepan
Oct. 4: 
American Horror Story: Hotel, season five
Chevalier
Dartmoor Killing
The Flash, season two
The Grinder, season one
Oct. 5: 
Arrow, season four
Oct. 6: 
iZombie, season two
Oct. 7: 
13TH (Netflix original) 
Dinotrux, season three (Netflix original) 
The Ranch, season one, part two ­(Netflix original) 
Russell Peters: Almost Famous (Netflix original) 
The Siege of Jadotville (Netflix original) 
Supernatural, season 11
Oct. 8: 
The Originals, season three
Vampire Diaries, season seven
Oct. 10:
Kuromukuro, season two (Netflix original) 
Love Between the Covers
Oct. 12: 
Justin Timberlake + the Tennessee Kids (Netflix original) 
Oct. 13:  
DC's Legends of Tomorrow, season one
Mascots (Netflix original) 
Oct. 14: 
Haters Back Off!, season one (Netflix original) 
Project MC2, season three (Netflix original) 
Sky Ladder: The Art Of Cai Guo­Qiang (Netflix original) 
Oct. 15: 
Being George Clooney
Chapo: El Escape Del Siglo
Glitch, season 1 (Netflix original) 
Power Rangers Dino Super Charge season one, part one
Oct. 16: 
Dark Matter, season two
Oct. 21: 
Black Mirror, season three (part one) (Netflix original) 
Containment, season one
Joe Rogan: Triggered (Netflix original) 
Midnight Diner: Tokyo Stories (Netflix original) 
The Mr. Peabody And Sherman Show, season three (Netflix original) 
Word Party, season one (Netflix original) 
Oct. 24: 
Doctor Foster, season one
Oct. 25: 
Big Eyes
Oct. 26: 
Jesus Camp
Kung Fu Panda 3
Oct. 28: 
7 años (Netflix original) 
I Am the Pretty Thing That Lives in the House (Netflix original) 
Into The Inferno (Netflix original) 
Skylanders Academy, season one
Trailer Park Boys: Out Of The Park — Europe (Netflix original) 
Oct. 29: 
The Fall, season three (Netflix original) 
Oct. 31: 
Chewing Gum, season one (Netflix original) 
The biggest titles leaving Netflix in October
Back to the Future
Back to the Future Part II
The Exorcist
Insomnia
Jimmy Neutron: Boy Genius
Psych, seasons one through eight
The Interview 
The Truman Show