The best iPhone hacks you probably didn't know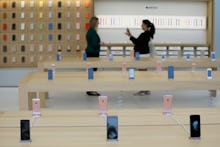 It's no secret that Apple's iOS is one of the best mobile operating systems out there. The software is full of intuitive features that make the iPhone so popular in the first place. But below the surface, there are several tips and tricks for getting the most out of your iPhone. Here are some of the best iPhone hacks you might not know about:
Get a breakdown of your favorite places. In the internet age, Big Brother is always watching. Using the data collected from your Maps app, your iPhone can summon a list of locations you frequently visit. It's creepy, but it could perhaps be helpful if, say, you have a friend coming to visit and you want to compile a list of your favorite restaurants in the area. And since the feature is buried deep in your iPhone's settings, it's unlikely you've turned it off. To check it out, head to Settings > Privacy > Location Services > System Services > Frequent Locations.
Quickly close apps. Want to shut down some apps to get to the ones you really want? Need to shield private information from wandering eyes? Close three apps simultaneously using the iPhone's multitasking menu. Simply slide three fingers up the screen at once to instantly eliminate three apps.  
_____________________________________________
Read more:
Use an alternate shutter button. This one is especially helpful for taking selfies. You know how annoying it can be when you're extending your arm and your thumb starts to buckle as you click the shutter, resulting in a blurry shot? Try using the volume buttons on the side panel instead. Either one will work, and it can help provide some much needed support in certain camera situations. 
Etch-a-Sketch erase. A super useful trick that's both convenient and nostalgic. Shake your phone like an Etch-a-Sketch to remove typing, whether it's a typo or a drafted text message to your ex. And don't worry if you shake accidentally — your iPhone will always ask you before it undoes typing.
Assign custom vibrations. Want a special notification for when Mom calls but don't want to bother everyone around you? You can create a special vibration pattern to assign to her calls. Head to your contacts and select a name. Hit Edit > Vibration > Create New Vibration and tap out a pattern of your choosing. It could make the difference when deciding if you need to leave the meeting to take a call, or not.