Betty Shelby, officer who shot Terence Crutcher, charged with first-degree manslaughter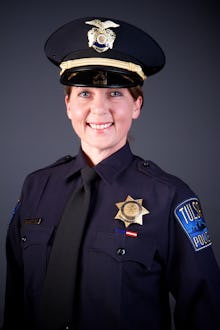 Betty Shelby — the Tulsa, Oklahoma, police officer involved in the death of Terence Crutcher, who was shot and killed on Sept. 16 — has been charged with first-degree manslaughter, Fox23 reported.
Friday morning, Shelby was booked at the local county jail and released on a $50,000 bond, according to CNN.
Video released of Crutcher's shooting death showed the 40-year-old was unarmed and had his hands up before he was stunned with a stun gun and then shot by police. His death sparked outrage and protests, and Shelby was initially placed on administrative leave.
The decision to bring charges against Shelby came quickly but is not without precedent. In December, Chicago police Officer Jason Van Dyke pleaded not guilty to murder charges in the 2014 shooting death of 17-year-old Laquan McDonald, ABC 7 reported then.
Sept. 23, 2016, 6:41 a.m. Eastern: This story has been updated.