The man shot in Charlotte, North Carolina, protests is dead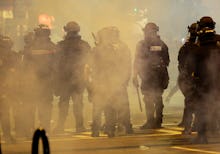 During protests Wednesday night following the police shooting of Keith L. Scott, an unnamed man was shot and wounded. On Thursday, local news outlet WCNC reported that the man died in the hospital after being on life support throughout the night.
Minister Steve Knight of Mission Gathering Christian Church and the Charlotte Clergy Coalition for Justice provided Mic with a statement describing what he witnessed.
"I saw the man go down on the pavement," Knight said. "It was an ambush. The victim was shot while he stood between two ministers, and we believe he was shot by police. We would like to see surveillance video from the surrounding area that may have captured the shooting to determine who was responsible."
Later Thursday, the Associated Press reported that Charlotte police had opened a homicide investigation into the death of the demonstrator, identified by the AP as Justin Carr, 26.
Correction: Sept. 22, 2016