What was Hillary Clinton's comment about the "basket of deplorables?" Here's what she said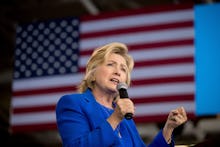 It was a moment that created both backlash and praise — and a whole lot of memes. The Friday before the 15th anniversary of the Sept. 11 terror attacks, Hillary Clinton spoke at a fundraiser in New York City where she called half of Donald Trump supporters "deplorables."
"You could put half of Trump's supporters into what I call the 'basket of deplorables,'" Clinton told attendees. "The racist, sexist, homophobic, xenophobic, Islamophobic — you name it."
Trump responded on Twitter and called her comment "insulting."
"How can she be president of our country when she has such contempt and disdain for so many great Americans?" Trump said in a statement. "Hillary Clinton should be ashamed of herself."  
Many Clinton supporters agreed with her. Still, the former secretary of state quickly apologized — sort of.
"Last night I was 'grossly generalistic,' and that's never a good idea. I regret saying 'half' — that was wrong. But let's be clear, what's really 'deplorable' is that Donald Trump hired a major advocate for the so-called 'alt-right' movement to run his campaign and that David Duke and other white supremacists see him as a champion of their values," Clinton said in a statement.
_____________________________________________
Read more: 
"It's deplorable that Trump has built his campaign largely on prejudice and paranoia and given a national platform to hateful views and voices, including by retweeting fringe bigots with a few dozen followers and spreading their message to 11 million people. It's deplorable that he's attacked a federal judge for his 'Mexican heritage,' bullied a Gold Star family because of their Muslim faith and promoted the lie that our first black president is not a true American. So I won't stop calling out bigotry and racist rhetoric in this campaign," she said. 
Trump used her comment to mock her during a rally in Miami, where he appeared onstage to music from the Broadway hit Les Misérables with a large backdrop that read "Les Deplorables."
"Welcome to all of you deplorables," Trump told the crowd, Politico reported.
Clinton apparently used the term "basket of deplorables" during an interview on Israeli television the day before, according to Slate.