3 Phoenix police officers resign after forcing teen to eat marijuana during traffic stop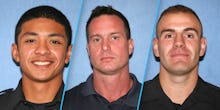 Three Phoenix police officers resigned on Thursday after two of them forced a teenager to eat a gram of marijuana during a Sept. 13 traffic stop, Phoenix police chief Joseph Yahner said at a press conference, according to Reuters. The police lieutenant who supervised the officers has also been demoted.
"The allegations against these former officers are compelling, appalling and extremely unprofessional," Yahner reportedly said during a press conference. "Appropriate action has been taken."
The three officers involved in the incident were Richard Pina, Jason McFadden and Michael Carnicle, and their supervisor was Jeff Farrior. 
Yahner said he was planning to fire the three officers involved in the incident, but instead they resigned. Farrior, meanwhile, was demoted for not taking swift action after learning what had happened.
The Sept. 13 traffic stop: At around 3:30 a.m., officers pulled over a 19-year-old driver for speeding, according to Reuters. They eventually came upon marijuana — which has been approved for medical purposes in Arizona, but not yet for recreational use — inside the teen's car. 
Pina and McFadden reportedly ordered him to eat it.
The teen followed the officers' demands and swallowed the gram of marijuana, Reuters reported. He later reported that the drug made him feel temporarily ill.
The officers proceeded to write the teen a traffic ticket. That same day, he filed a complaint.
Pina and McFadden may still face criminal charges in connection to the event, police spokesman Sergeant Jonathan Howard said, according to Reuters. Carnicle was present at the traffic stop, but didn't take part in the other officers' disturbing demands.
"This conduct is contrary to everything we stand for and it undermines the good actions of the men and women of the Phoenix police department," Yahner reportedly said.