South Korea has a plan in place to assassinate Kim Jong Un, defense minister says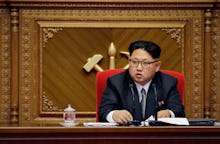 South Korea has a plan in place to assassinate Kim Jong Un if it feels threatened by North Korea's nuclear power, defense minister Han Min-koo said in parliament on Wednesday, according to CNN.
The revelation reportedly came about when the defense minister was asked whether South Korea had special forces at the ready to take out the North Korean dictator.
"Yes, we do have such a plan," he answered, adding, "South Korea has a general idea and plan to use precision missile capabilities to target the enemy's facilities in major areas as well as eliminating the enemy's leadership."
The defense minister's comments came shortly after North Korea's state-run news agency reported the successful testing of a new high powered rocket engine — just the latest in a series of weapons tests run by the secluded country in recent months.
On Sept. 9, North Korea said it had conducted its fifth — and "potentially most powerful" — nuclear test, CNN reported. The country said it successfully set off nuclear warheads that could be mounted on ballistic missiles.
According to CNN, North Korean state media said the test would allow the country to develop "a variety of smaller, lighter and diversified nuclear warheads of higher strike power."
The United Nations Security Council reportedly called the tests "a clear threat to international peace and security."